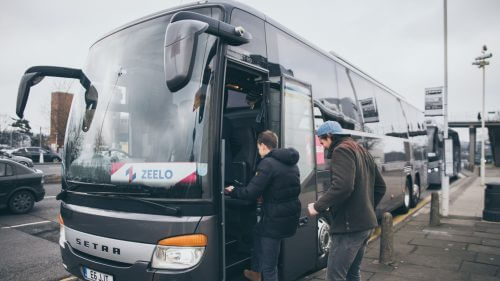 Saracens has announced that it will work with on-demand coach service Zeelo to bring fans a new way to travel to Allianz Park. Zeelo uses an AI powered-platform called RINA to understand where there are large numbers of fans who have a difficult journey to each home game, they then serve this demand.
After the success of the Saracens Express trials at the London Stadium and the Premiership Final last season, Saracens and Zeelo will work together ahead of the 2018/19 season to run the Saracens Express on a season long basis.
Fans using the service will benefit from live vehicle tracking and extra customer support.
Saracens fans will be able to travel on existing and new Saracens Express routes from over 20 locations across Hertfordshire and Essex including Stevenage, St Albans, Hemel Hempstead and Cheshunt amongst others.
Fans will also have the flexibility to purchase tickets for single games or buy a whole season ticket where they can opt in for all regular season home games at Allianz Park.
Prices start at £14 per game or £145 for a season ticket.