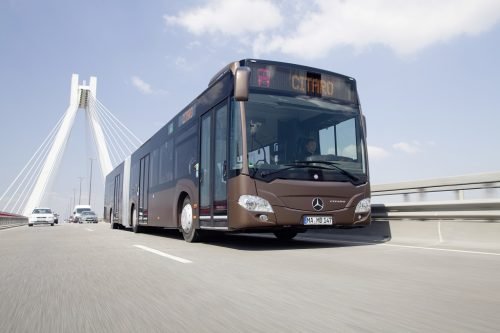 Largest ever order for Citaros placed for operation in Riyadh
SAUDI ARABIA The largest single order for Mercedes-Benz Citaros has been placed by a consortium comprising SAPTCO (Saudi Public Transport Company) and RATP (Régie Autonome des Transports Parisiens) Dev for operation in Riyadh. The first of an initial batch of 200 rigid and articulated buses are due for delivery in 2018, the remaining 400 by 2020 with the order being processed by the Daimler Commercial Vehicle Regional Centre for the Middle East and North Africa in Dubai. For the most part, the buses will operate on newly established BRT (Bus Rapid Transit) routes.
The agreement is an important milestone in the partnership between Daimler Buses and the two bus operators SAPTCO and RATP Dev. SAPTCO is already a long-standing customer and in 2016 purchased more than 200 Mercedes‑Benz Travego 15 SHD touring coaches.
The 400 Mercedes‑Benz Citaro G and 200 Mercedes‑Benz Citaro rigid buses will be especially adapted for operation in the hot desert region of Saudi Arabia. The specification includes such items as up-rated air-conditioning, circulating air blowers in the doors and also double-glazed, darkened side windows. The interior and exterior design of the vehicles has been adapted specifically to meet customer requirements.
The buses will have state-of-the-art IT systems. All will be equipped with WiFi, 18‑inch flat screens in the passenger compartment and systems for cashless payments. Beyond that, automatic passenger counting at the doors as well as intelligent vehicle networking with control systems and service partners support the fleet operators with the preparation of timetables and maintenance intervals.
Hartmut Schick, Head of Daimler Buses, said: "We are delighted to cooperate with our long-standing partner SAPTCO to provide high-standard services to the local public transport in Riyadh. We are honoured by this trust, the Saudi bus operator placed in us. It once again reflects the fact that thanks to our high-quality products, we are also continuing to grow profitable beyond our core markets."
The Regional Centre in Dubai has been acting as the hub for Daimler's commercial vehicle business in the Middle East and North Africa since 2015. In total it looks after some 19 countries – from Morocco to Pakistan. The new company, called Daimler Commercial Vehicles Middle East & North Africa, is responsible for business involving the Group's entire commercial vehicle portfolio – from the Mercedes‑Benz Citan urban van through to the Mercedes‑Benz Actros heavy-duty truck. Globally there are six regional centres, namely for the Middle East and North Africa (Dubai), Central Africa (Nairobi), Southern Africa (Pretoria), South Asia (Chennai), Southeast Asia (Singapore) and Latin America (São Bernardo do Campo).