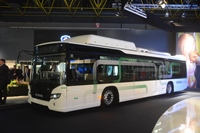 FRANCE RATP (Regie Autonome des Transports Parisiens) recently launched a tender for the supply of natural gas powered buses to replace part of its Paris fleet.
Among the different consulted manufacturers, Scania France was chosen to deliver an unspecified number of Compressed Natural Gas (CNG) buses to the authority over a four year period. They will be 18m articulated Scania Citywide LFs with four metro-type entrance doors and the latest accessibility features. There are currently 220 Scania OmniCitys operating in Paris that were delivered between 2007 and 2010.
RATP, supported by Syndicat des transports d'Île-de-France (STIP), the transport authority that controls the Paris public transport network and coordinates the different transport companies operating in Île-de-France (mainly the RATP), launched Bus2025 in 2014 with the objective of converting its entire fleet to alternative fuels. It's expected that 20% of those will use renewable natural gas (Biomethane), which means that that they can be operated as CO2-neutral. An added benefit is that CNG buses are especially quiet due to their very smooth fuel combustion.
As at the end of March 2016, Scania France had sold more than 180 natural gas-powered trucks and 25 gas cars are on order. The CNG bus order means a complete range of natural gas vehicles is being supplied.
RATP bought 53 MAN Lion's City CNG buses to expand its fleet in 2015.