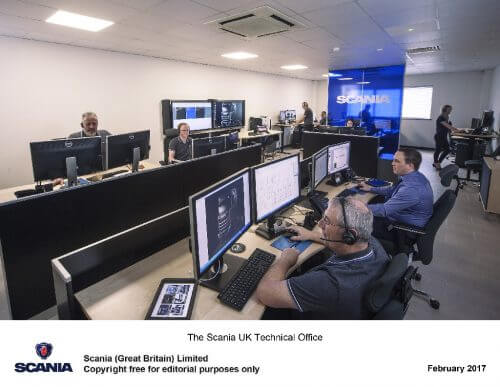 A £100,000 investment looks to enhance efficiency and allow round-the-clock support for Scania customers
Scania (Great Britain) Ltd has completed a £100,000 upgrade to its UK Technical Centre.
The facility was inaugurated on February 8 by Hans Bedman, Head of Field Quality for Scania Sweden. The company said it now boasts an extensive range of state-of-the-art equipment and technology, which mirrors the advances launched with the latest generation of Scania vehicles in 2016.
Mark Grant, Aftersales Director for Scania (Great Britain), commented: "The developments we have witnessed in automotive technology in recent years, such as connectivity and remote diagnostic capabilities, have made it essential for service-providers to reinvest in their facilities if they are to move with the industry, stay abreast of the changes, and provide the best possible customer service."
The Technical Centre shares premises with the Scania UK Training Centre recently featured in CBW (CBW1268, November 29, 2016), which is centrally located at Copt Oak, near Loughborough. Its upgraded equipment includes automotive diagnostic systems and software, and embraces mobile technology such as toughbook laptops, iPads and smart phones.
The Technical Centre is connected with Scania workshops and vehicles in order to provide a remote diagnostic service. This includes communication between local technical support services, Scania products using wireless VCI (Vehicle Communication Interface) and Scania's Global Technical Support/Field Quality service. Remote vehicle monitoring employs vehicles' built-in Scania OnBoard telematics system to monitor vital vehicle data and parameters live while vehicles are in use.
Up-to-date technical information and product news is communicated to all Scania UK service centres through in-house digital media screens.
Scania said the desired outcome of the investment is an improvement in efficiency. News dual screen workstations have been installed to enable multi-tasking, while streamlined technical processes speed up troubleshooting and increase vehicle uptime. Scania looks to offer faster support using the technology installed, resulting in less travelling and increased availability of engineers.
The Technical Centre is equipped with an internet-based telephone system, with multiple conference call ability. Wireless headsets enable engineers to roam throughout the Training Centre, allowing 'hands-on' working while communicating with technicians. Video conferencing enables full communication between the Technical Centre and Scania workshops, along with Scania's Global Technical Support/Field Quality service.
To provide support 24/7, the Technical Centre has been linked to Scania's Global Technical Support service via Scania's Swedish, Brazilian and Hong Kong-based service hubs.
The Technical Centre employs nine multi-disciplined, highly trained technical engineers who support the entire Scania truck, bus, coach and engine product ranges. In addition, Scania has 27 escalation technicians based regionally throughout the UK. These support the 90 UK Scania dealer locations, which between them house 216 master technicians and a total of 1,600 technicians.