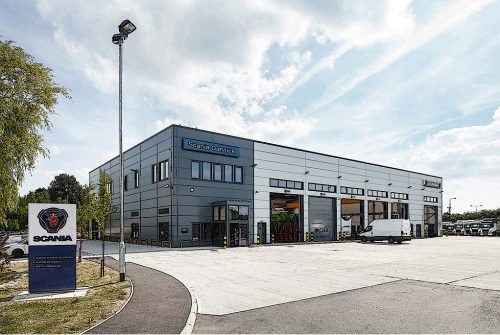 Scania (Great Britain) Ltd has invested in the development of a new dealership on a three acre greenfield site just off the M23 motorway south of Crawley in West Sussex.
The new premises will be known as Scania Gatwick and will be constructed to the same design concept as Scania Maidstone, another greenfield development which was inaugurated in December 2015.
Scania said the new Gatwick site will be almost identical to the Maidstone build and will feature four drive-through workshop bays, including facilities for gas-powered and Petroleum Regulations vehicles and a DVSA Authorised Testing Facility (ATF) lane. A full Scania parts service, including parts for all makes and ancillary components, will be offered and the site will house both new and used truck sales operations and a location for Scania Truck Rental.
Adrian Inscoe, Scania's Regional Executive Director for the South East, said: "Scania Gatwick will take 12 to 14 months to construct and we anticipate being operational in late autumn 2018 or early 2019.
"Gallagher Properties, which constructed Scania Maidstone, will once again be our partners in creating Scania Gatwick. When complete, our current Scania branches in Lingfield and Lewes will be amalgamated into the new facility, with all employees transferring across.
"We are now very much looking forward to the opening and going on to deliver the very highest levels of service to all commercial vehicle operators in the area."