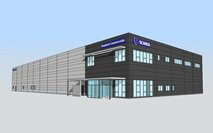 Haydock Commercial Vehicles Ltd, the Scania dealer for the Preston-Liverpool-Warrington triangle, Chester and north Wales, is planning a major new development on a 3.25-acre green field site adjacent to junction 8 of the M62 on Omega North, Warrington.
The new premises will combine an office with parts and service facilities in a development designed in accordance with Scania's global dealership template. It is expected to be finished in late 2017, at which time Haydock Commercial Vehicles' existing Haydock site will relocate to the new premises.
"This development is very exciting for everyone concerned; our customers and staff alike," said Simon Dykes, Distributor Principal of Haydock Commercial Vehicles.
"The new premises will be one of, if not the most modern facilities of its kind in the North West and will follow in principle the design established in the UK at Scania Maidstone.
"Plans have been submitted for nine work bays, one being a proposed ATF/MOT test lane, and one for gas and ADR tankers, along with office, staff welfare and meeting facilities that you would expect of a Scania dealership head office site."
Claes Jacobsson, Managing Director for Scania (GB) Ltd, commented: "This important investment by Haydock Commercial Vehicles, one of our long standing independent dealers, is very much in tune with Scania's own philosophy of building for the future.
"We see this as essential if we are to continue to best serve the needs of our customers going forward and retain our position at the leading edge of our industry.  I am therefore delighted at Haydock Commercial Vehicles' decision to invest and very much look forward to visiting the new premises when its doors are opened for business."