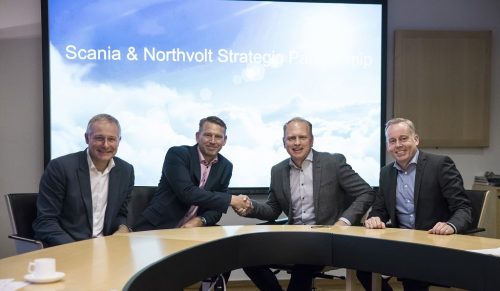 Collaborations agreed with Chinese and Swedish partners to further the development of electric and autonomous buses and trucks
SWEDEN & CHINA Scania has recently agreed two collaborations – in Sweden and in China – which it is hoped will further the development of electric traction technology.
Scania is to invest €10m in fellow Swedish firm Northvolt to develop and commercialise battery cell technology for buses and trucks.
For larger vehicles, continued development of both charging infrastructure as well as more robust, cost-effective and sustainable battery cells is crucial for a widespread market breakthrough in commercially viable electrification, Scania said. Recognising different transport assignments require different electric powertrains, it said that battery and cell technologies must therefore be developed to support varying needs.
Henrik Henriksson, Scania's President and CEO, said: "Electrification will play a key part in the shift to a fossil-free transport system and it's advancing rapidly. However, the current battery cell technology must be developed to fulfil the business requirements of heavy bus and truck customers. With Northvolt as a partner, we believe that we can make major strides forward."
The two companies will establish an expert team and work together at Northvolt's research facility, Northvolt Labs, in Västerås, Sweden, to develop and commercialise production of battery cells optimised to power commercial vehicles. The companies have also entered into an off-take purchase agreement for battery cells.
Production of battery cells is energy intensive and Sweden offers a solid supply of cost-effective green energy, Scania said. The country is therefore well suited for large-scale sustainable battery production. Northvolt is building the next generation battery factory in the city of Skellefteå in the North of Sweden with the objective to produce high-quality green batteries, with a minimal carbon footprint and ambitions for high levels of recycling.
Another strategic initiative in Scania's ambition to drive the shift towards a sustainable transport system is its collaboration with China's Haylion Technologies. The two firms will join forces in the field of non-fossil fuel powered, mainly electrified vehicles, autonomous vehicles and urban bus transport. The common aim is to expedite the commercialisation of autonomous driving applications and sustainable transport.
Haylion Technologies has together with Gortune Investment Co. Ltd established a team of specialists in artificial intelligence, automotive manufacturing, communications and public transport. This team focuses on autonomous driving technology, concept verification and its industrialisation. Haylion Techonologies' main focus is developing comprehensive solutions for public transport by electrified, autonomous and connected buses.
Since the end of 2017, Haylion Technologies has been conducting trials with intelligent buses on public roads in partnership with the Shenzhen Bus Group in a project named 'AlphaBa,' which is seen as industry breakthrough.