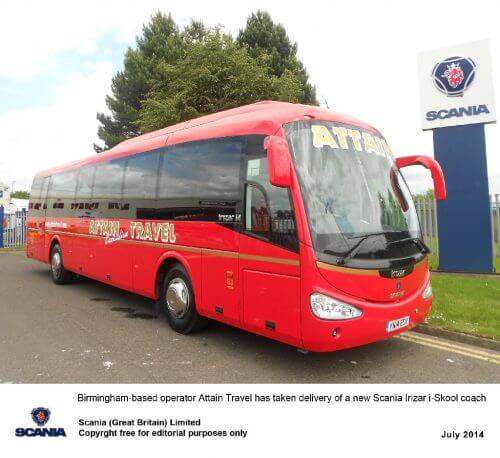 Scania (Great Britain) is once again offering an Irizar-bodied high-capacity school coach, the i-Skool. First customer is Leicester-based Ausden Clark and another has since been sold to Carvers of Ellesmere Port.
While its predecessor seated 70 and was based on a two-axle coach, the latest vehicle is a flat floor 13.6m Irizar i4 tri-axle with 80 three-by-two Prime Buckingham seats that have all age belts. The Scania underframe is a K360IB 6×2*4 with two-pedal Opticruise gearbox.
Included in the specification is a rear door with fold out steps so that seating capacity isn't compromised, Translink in Northern Ireland having specified the same feature. Options include dark glass and a DVD and monitor.
Scania Sales Director – Bus, Coach and Engines Tony Tomsett reported that there had been quite a bit of interest in the new product. He explained that the decision to go for a tri-axle was because of weight.
"Following a meeting with Ausden Clark whilst at Euro Bus Expo we decided to look at the possibility of building an i-Skool on three axles," he said. "It was a remarkably quick reaction between Scania and Irizar in terms of layouts and specification and two weeks later we agreed a deal with Ausden Clark for one unit.
"There is no reason why the vehicle couldn't also be available with a DDA specification if fitted with centre door and wheelchair lift."