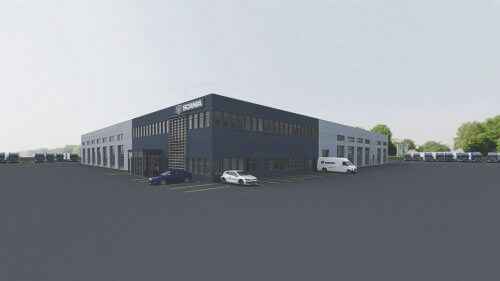 Scania is developing its service for transport operators in Scotland's central belt with a major £10m investment in a new 4,000 square metre, purpose-built flagship site and regional headquarters for Scotland. Occupying a 7.8 acre plot at the Eurocentral industrial and logistics hubs, the completely new build will replace the existing operation located four miles away in Bellshill, and is due for completion in the fourth quarter of 2021.
Designed in accordance with Scania's global dealership template and including a state-of-the-art workshop, parts department, office accommodation and extensive secure parking, the premises will also embrace a range of features designed to maximise environmental benefits and long-term sustainability.
"Scotland has been a key market for Scania since we began importing trucks into the UK back in the mid-1960s," said Martin Hay, Managing Director of Scania (Great Britain) Limited. "Our continued sales growth and exceptional levels of service have seen our Scottish network grow from a single location in
to eight professional service centres today. The new Eurocentral facility has been designed to dramatically increase capacity to ensure we can continue to support our customers and reduce our carbon impact for the decades to come. As our latest investment in Scotland, Eurocentral follows the 2015 redevelopment of our Inverness site and move in 2019 into larger, refurbished premises in Dundee."
Scania has made the decision that all energy usage will be fossil free, featuring a high-efficiency underfloor air-source heating system, sustainable drainage and environmental containment in accordance with local regulations, water recycling in its vehicle wash, LED lighting throughout and roof-mounted energy-generating photovoltaic panels.