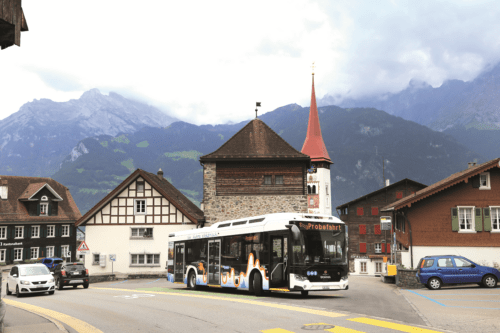 Major changes have been announced to Scania's integral product offerings
Scania announced on 30 May that it is to reshape its coach and bus business. As a result of the new direction, which it says will bring a more focused product portfolio, the manufacturer has decided to cease body production on Scania bus chassis at the plant in Słupsk, Poland. Scania says it will continue to offer customers complete buses and coaches, supported by an extensive service network, and strong global and local partnerships with bodybuilders.
In line with the effects felt by other manufacturers, Scania says the coach and bus market was heavily impacted by the pandemic and although the market has gradually picked up, the pace of recovery remains slow while competition is increasing, and upcoming legislation requires significant investments in new technology, both now and in the future.
"We are convinced that the bus and coach business will continue to be an important part of Scania's offering going forward, but we need an updated strategy that enables us to deliver on our customer promise and secures a profitable business globally," said Head of Sales & Marketing Stefano Fedel.
Scania says its new business strategy will support its customer promise to be a global trusted partner for complete solutions by leveraging the strengths of a modular system, its service network, and global and local partnerships.
"By using Scania's experience and wide range of powertrain options, we will provide our customers complete solutions including service, financing, charging solutions, and intelligent transport systems," said Stefano.
The coach and bus business will be moved to what the manufacturer says is a leaner structure to improve speed and flexibility. The company will continue to manufacture rear- and front-engined chassis with various powertrain options, but is to discontinue production of its Citywide, Interlink, and low-floor chassis. Body production will be gradually brought to an end by the first quarter of 2024. The decision will not affect chassis production in Słupsk nor other Scania entities in Poland.
Scania plans to continue to offer complete coaches and buses in increased cooperation with selected bodybuilders and partners in the industry.
"The majority of Scania's bus and coach business has always been in cooperation with bodybuilders where a high service level and a strong global presence has been achieved with local setups. This successful approach will be further developed, now in even closer collaboration with our bodybuilders and partners to offer our customers complete solutions," added Stefano.