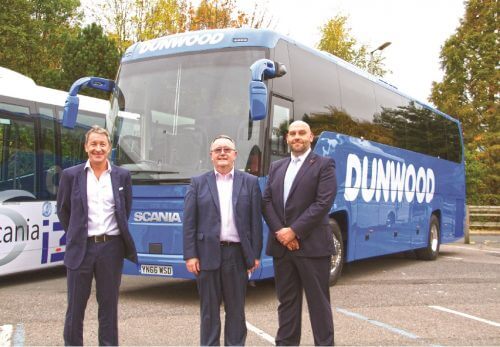 Manufacturer announces a number of coach sales throughout the event, including 16 Scania Irizar i6s for City Circle
Scania and its customers celebrated a number of important orders and deliveries at Euro Bus Expo 2016.
"This has been a tremendously successful event for us, not only in terms of orders received but also with regard to the exceptionally high levels of interest shown in the products displayed on our stand," commented Martin West, General Manager – Retail Sales, Scania Bus and Coach.
"Both the new Scania Interlink HD and Scania Irizar i8 attracted the crowds for the entire duration of the show, as did the Scania Touring in the outside display area.
"The feedback received from operators has been universally positive."
City Circle
Following on from the delivery of 20 Scania Irizar i6 coaches to City Circle UK Limited earlier this year, the Middlesex-based operator has confirmed an order for a further 16 vehicles, scheduled for delivery in Spring 2017.
The vehicles are all 53-seater 13.22-metre Scania Irizar i6 models based on Scania's K 410 EB6x2*4 tri-axle, rear steer chassis.
City Circle UK Managing Director, Neil Pegg, said: "The complete service we receive from Scania and Irizar is second-to-none. The passenger appeal is outstanding and we have found the quality and reliability of the vehicles to be first class."
Princess Coaches
Pete Brown, Managing Director of Southampton-based Princess Coaches, announced an order for three 12.8-metre 53-seater Scania Interlink HD coaches, which will be the UK's first to be equipped with a rear door and rear-mounted toilet.
"Scania ticks all the boxes for us," Pete commented. "The luggage space afforded by the Interlink HD is exceptional, which is exactly what we need."
Dunwood Travel
Dudley, West Midlands-based Dunwood Travel ordered a single Scania Irizar i6, with Directors Phil Westwood and Colin Duncan, also visiting the show to take delivery of their latest fleet addition, a 49-seater Scania Touring coach.
The latest Scania Irizar i6 is scheduled for delivery in March 2017 and will be fitted with a centre wheelchair lift.
Seating configuration will be either 49 seats, or 41 plus two wheelchairs.
Phil Westwood said: "It's a fabulous product and we get really good service from Scania."
Skills Motor Coaches
An order for seven 53-seater Scania Interlink HD coaches was announced by Skills Motor Coaches of Nottingham.
Based on Scania's K 410 EB4x2 chassis, each vehicle will feature a 410hp Euro 6 engine coupled to Scania's automated Opticruise transmission.
"We took our first three Scania coaches back in 2009 and such is the overall quality of the product that we keep coming back for more – today, a third of our fleet carries the Scania badge," said Nigel Skill.
Belle Coaches
Lowestoft, Suffolk-based Belle Coaches confirmed an order for a new Scania Interlink HD 53-seater coach.
"I came to the show back in 2010 looking for a 12.8-metre vehicle with 53-seats and a toilet and was smitten with the Scania OmniExpress," said Belle Coaches Managing Director, Ken Shreeve.
"So I purchased two; one from the stand, the other a stock vehicle.  Since then they have given us excellent service, so I am delighted to once again be buying Scania."
Johnsons Coaches
Henley-in-Arden-based Johnsons Coaches placed an order for five Scania Interlink coaches – four 12.8m two axle 49-seaters and one 14m tri-axle 63-seater, all with 410hp engines.
John and Peter Johnson, the company's Directors, said: "We have been very pleased with the overall performance of our four Scania OmniExpress coaches over the last three years and we were immediately impressed with the new version of this coach, the new Interlink Finesse."
Attain Travel Limited
Birmingham-based Attain Travel confirmed an order for a new Scania Interlink HD, to be built to the upgraded Finesse specification which includes half leather trim with piping, USB charging sockets and Alcoa Dura-Bright alloy wheels.
Attain Director, David Costello, said: "We have been purchasing Scania coaches for many years and have always been pleased with the products and excellent after sales service."
Bullocks Coaches
Bullocks Coaches of Manchester confirmed its latest Scania order at the show – a 57-seater Scania Touring HD based on a K 410 EB6x2*4 tri-axle rear-steer chassis for Spring 2017.
Jamie MacIntosh, Area Account Manager for Scania (Great Britain) Limited commented: "It is great to do business with Alan Bullock once again. This order will see the integration of the first Touring HD into the Bullocks fleet."
Barry's Coaches Limited
Weymouth, Dorset-based Barry's Coaches Limited is adding another Scania Irizar i6 coach to its fleet.
The new coach will be based on a 14.07-metre Scania K 410 6×2*4 chassis, with 61 i6 reclining seats, centre sunken washroom, USB charging points at all seats and Alcoa Dura-Bright alloy wheels.
Astons Coaches
Astons Coaches of Kempsey, Worcestershire, has confirmed an order for a Scania Interlink tri-axle rear steer coach equipped to Finesse specification.
Greenline Coach Holidays
Stourbridge-based Greenline Coach Holidays ordered a new Scania Interlink HD Finesse 53-seater with half leather trim, three-point seatbelts, centre sunken toilet, drinks machine, fridge and Alcoa Dura-Bright Alloy wheels.
Managing Director, Andy Phillips, said: "After seeing the vehicle on the Scania stand at the Euro Bus Expo we decided to order one for delivery in April 2017.
"The decision was made because of the exterior looks, Scania's support and aftersales network, and the reliability of previous Scania vehicles within our fleet."