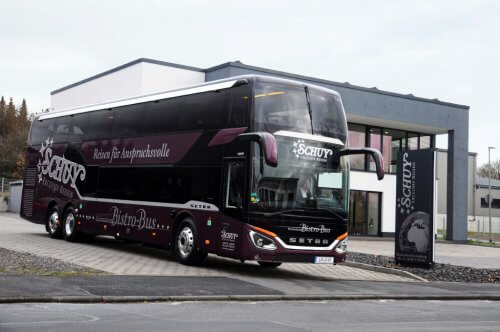 Schuy Exclusiv Reisen is celebrating its 40th anniversary with the acquisition of a new Setra S 531 DT. The double-decker coach is fitted with a panoramic glass roof and is the latest addition to the bistro bus fleet of the premium travel specialist from central Hessen. The coach can seat 42 passengers on the upper deck in leather armchairs with adjustable head rests and individually adjustable leg rests. The lower deck provides space for 16 more passengers around four tables.
From the bistro area, an on-board attendant can serve passengers a freshly tapped beer during the journey. In addition, a coffee machine, baking oven, convection oven, dishwasher, freezer and crockery are available for the on-board service.
Driver assistance systems ensure maximum safety, including Sideguard Assist, which provides warning of danger when turning using radar sensors to monitor the lane to the right of the bus over its entire length and alert the driver to pedestrians, cyclists and stationary obstacles in the turning path.
Schuy Exclusiv Reisen was founded in 1980 by Heinz and Hildegard Schuy, who rented buses for their travel services. Today, the company is managed by the second generation of the family, with son Marco Schuy and his wife Mirjam at the helm, and employs 60 staff.