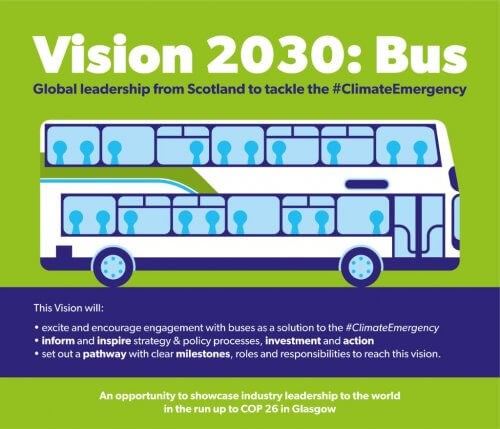 Bus companies across Scotland are getting together to set out a vision for buses for 2030, highlighting the importance of buses in tackling the climate emergency, in a project led by Transform Scotland (TS), the national body for sustainable transport.
Bus is often overlooked as part of the solution to tackling the Climate Emergency, TS says, yet bus has an important role to play in reducing emissions, improving lives and places, and the bus industry is critical to Scotland in tackling emissions, improving public health, equalities, efficiencies, creating jobs and strengthening the economy.
According to TS, transport emissions in Scotland are still growing, with air and road traffic being the biggest contributors to the problem. The private car is the largest source of all emissions in the transport sector. Bus companies, manufacturers and operators, from across Scotland are to get together to set out a Vision for 2030. The forum will hold its first full meeting in February at manufacturer Alexander Dennis Ltd's premises in Falkirk.
Host of the preliminary meeting, Andrew Jarvis, Managing Director of First Bus in Scotland said: "First Bus is proud to be part of the One Bus Forum and the 2030 vision campaign to help show bus as a solution as we aim toward a net zero carbon future. We have been key partners in the rollout of Scotland's first Low Emission Zone in Glasgow and we are now 40% compliant on routes operating through the city.
"We have invested heavily in the areas we operate with new technology, new fleet investment and new innovations all aimed at helping encourage modal shift, speeding up journeys and improving on air quality at the same time.
"In Aberdeen, we are leading the way in partnership with Aberdeen City Council with the rollout of the world's first zero emission Hydrogen powered double deckers later this year, while we have just launched the first fully electric buses on to a commercial route in Glasgow since the 1960s.
"We will continue to work with our partners and stakeholders to fund projects that can accelerate this process and help us reach our goals as well as aiding plans for net zero carbon emissions by 2030."
Lothian's Managing Director and Chair of CPT Scotland, Richard Hall, continued: "We are delighted to be working with Transform Scotland, key manufacturers and other bus operators across Scotland to set out a Vision for bus for 2030. At Lothian we continue to invest heavily in new greener, cleaner buses providing environmentally sustainable and best value travel solutions for our customers.
"Across the last few years we have removed almost 15,000 tonnes of CO2 from our carbon footprint and are continuing to make significant strides in our environmental journey. This exciting project will help shape a strategic vision for bus which will ensure we are all playing our part to reduce emissions and achieve critical modal shift across Scotland."
A total of 16 operators and manufacturers are joining the vision, including: Alexander Dennis, Docherty's of Auchterarder, Elizabeth Yule Transport, Eve Coaches, First Bus, Lochs Motor Transport, Lothian, McGills, Moffat & Williamson, Prentice Coaches, Scottish Citylink, Stagecoach, Shiel Buses, West Coast Motors, Whitelaws and Xplore Dundee.
Christine McGlasson, Managing Director for Xplore Dundee, added: "We take very seriously our role in Dundee and the wider world in reducing pollution, improving air quality and creating a better future for our country and its citizens. We firmly believe in bus as the solution to pollution and we're proud to play a part in shaping this vision for our industry and its ambition to help tackle the climate emergency."