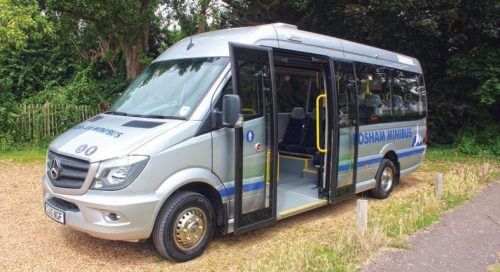 A further £2m is available for community transport operators, with the closing date for bid submissions set as December 2
Transport Minister Andrew Jones has launched the second round of the Community Minibus Fund.
Schools and community groups can bid for funding from the £2m which was released on September 8 in order to acquire new minibuses. This money is part of a £25m funding pot.
The first round of the fund from the Department for Transport (DfT) has now been allocated to more than 300 charities and community groups across England, and is expected to pay for more than 350 minibuses.
Andrew Jones announced the funding in Market Harborough, where he handed over keys to a new minibus to successful bidders Harborough Community Bus. The Peugeot Boxer was supplied by Minibus Options, which sub-contracted the work to GM Coachwork. The minibus is to be used to provide transport for elderly residents, people with disabilities and those who do not have access to commercial bus services.
Andrew said: "Community transport is vitally important in helping get people to hospitals, towns and shops, as well as supporting employment and education. It is particularly important in rural and isolated areas, helping thousands of people across the country get on and get around."
"This fund is making an enormous difference to organisations, like Harborough Community Bus enabling them to help people participate in local life."
The winners from across the country will each receive a nine to 16-seater minibus specifically tailored to their requirements
– such as disability friendly access and adapted seating.
The second round of funding, which closes on December 2, will be managed by the Community Transport Association (CTA), the membership association for community bus operators across the UK. The organisation will provide advice to all bidders.
Bill Freeman, CTA Chief Executive, said: "The first round of funding for community minibuses has strengthened the ability of community transport providers to provide accessible and inclusive transport, improving the everyday lives of people across England."
"This second round provides a welcome boost for communities across England and we look forward to supporting operators who are planning to apply for part of the £2m funding."
Information on the application process, including an application form and detailed guidance on eligibility, can be found on the CTA's website, www.ctauk.org/advice-and-information/ minibus-fund.aspx, where an application form can be downloaded. The organisation has also produced a detailed document offering advice to prospective bidders which can be downloaded from the same page.