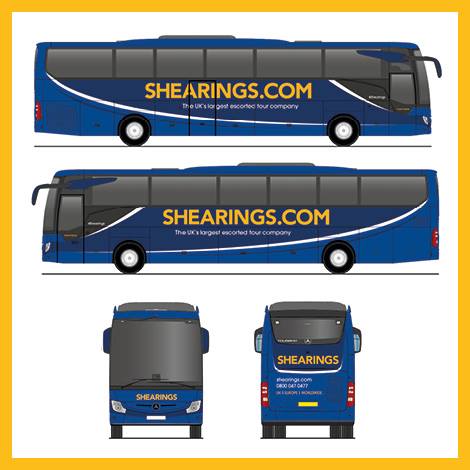 Shearings has revealed the final design for its new 'Celebration Class' Mercedes-Benz Tourismo coaches. Thirty of the new vehicles are due to be delivered to the fleet in May 2018.
After extensive feedback from customers, Facebook followers and staff, including drivers, Shearings decided to revert to a blue coach design, with the adoption of its new branding. The company had initially given a choice of two yellow and cream designs, reminiscent of the operator's colour scheme from the 1980s.
Each coach will be individually named, and the company said it has received nominations for the naming of these coaches already, and has chosen a combination of loyal travellers, as well as a selection of nominees from its drivers.
Shearings said the new coaches will be delivered with impact protection technology, integrated satellite navigation systems and all-terrain auto cruise control, which senses road conditions, gradients and the presence of other road users. The new vehicles will also feature individual USB charge points and WiFi on board.