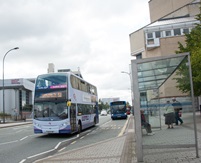 Network revisions will be complemented by new multi-operator smart ticketing system
Sheffield bus network development plans have been revised following customer feedback.
Sheffield Bus Partnership consulted on proposed changes to improve the co-ordination of city bus services over four working weeks, between July 6 and July 31. 2,458 responses were received and consultation comments have been used to progress the original proposals.
Plans for the refined bus network, incorporating changes centred on customer and community feedback, were approved by Sheffield City Region (SCR) Combined Authority Transport Committee at a meeting on September 1. Key changes include:
? Fewer changes to bus service numbers;
? Peak period services from Dore through to Hallamshire Hospital (current service 70);
? Retained links from Derbyshire Lane to Woodseats and city centre (current service 19/20a);
? Reinstatement of the SL2 Supertram link at Malin Bridge;
? Retained links between Grenoside, Foxhill and Hillsborough;
? Retained links between Firth Park Road and Burngreave; and
? Service 42 and 70 to provide a 15 minute service between Arbourthorne Eastern Avenue and city centre.
Sheffield Bus Partnership – made up of local bus operators, Sheffield City Council and South Yorkshire Passenger Transport Executive (SYPTE) – undertook the network review as part of work to progress the public transport aims drawn in the SCR Devolution Deal to improve and sustain local bus services.
SCR Transport Committee will consider a full package of bus improvements as part of the Devolution Deal proposals. Plans to complement the network review include the introduction of a 'simplified and more attractively priced' multi-operator ticket range on smartcard.
The full package is due to be introduced from the weekend of October 31 / November 1.
First South Yorkshire welcomed the decision
Kevin Belfield, Managing Director for First South Yorkshire, said: "It's great news that the Sheffield bus improvement package has been approved by the Transport Committee.
"Our partnership in Sheffield has gone from strength to strength. Since the ground-breaking introduction of the voluntary Sheffield Bus Partnership in 2012 we have reduced fares and improved services resulting in higher satisfaction and growth in customer volumes.
"By continuing to work together with other operators, the Passenger Transport Executive and Sheffield City Council, we have now designed a consolidated and sustainable network that has been shaped by feedback from customers.
SYPTE Interim Director General, David Young, added: "Sheffield Bus Partnership's ambitious plans offer a co-ordinated spread of buses that will deliver a more efficient service to better meet passenger travel patterns and community needs.
"The introduction of cheaper 'Smart' multi operator tickets in Sheffield and Rotherham complements this, allowing people to catch the first bus that comes along, regardless of the company that runs it."