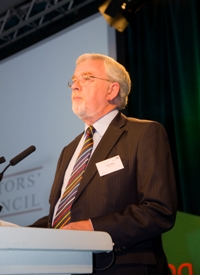 Respected operator warns if the 3p rise in fuel duty in August goes ahead, the increase will become an unprecedented 79%
Peter Shipp, chairman of East Yorkshire Motor Services Group (EYMS), has written to the chancellor of the exchequer in a last ditch attempt to prevent a 58% increase in fuel tax faced by bus operators in April.
The 20% cut to BSOG from April will mean a loss of £600,000 a year in the grant for EYMS. This comes on top of increased prices for fuel – at its highest ever for EYMS last week and a £700,000 a year reduction in the payment EYMS receives from local authorities for concessionary travel scheme.
Shipp is asking the chancellor to use "just a tiny proportion of the government's recently reported January tax windfall" to restore all or at least some of the planned BSOG cut to head off more reductions in bus services and steep rises in fares which he said are inevitable when the tax increase takes place.
The 20% cut in April equals 8.6p per litre on the price bus operators pay for diesel – a massive 58% increase in fuel tax for buses, said Shipp. If the 3p rise in fuel duty in August goes ahead, the increase will become an unprecedented 79%. "
Airlines pay no fuel duty, trains pay very little," he said. "Car and truck drivers have had to suffer the big increases in fuel duty, but not the massive cut in the grant which bus operators have received which has been there for many years to help maintain bus services and keep fare rises as low as possible.
"Using 1999 as a base, fuel tax included in the pump price for private cars and trucks has increased by about 60%. For buses the figures is an astonishing 175%.
"A previous study for the government by the Commission for Integrated Transport found every £1 paid in BSOG provided between £3 and £5 of wider benefits to the community. BSOG is not a huge amount in the general scheme of things, but is simple and cheap to administer and delivers huge value for money for the government and for bus passengers, yet the Government still plans to cut it by about £90m a year."
Shipp said after allowing for the BSOG, the cost of fuel for EYMS has risen from about £1.2m in 1999 to almost £5m this year, "grossly unfair on bus passengers who inevitably bear the full brunt". "The government keeps telling us it wants to see more people on buses, that buses are vital for the economy, jobs, climate change and social inclusion but these changes, together with the equally damaging financial effects of the Concessionary Travel Scheme are having exactly the opposite result."
While welcoming the Better Bus Area Fund and latest round of Green Bus Funding and support from transport minister Norman Baker, Shipp said these will only help in some limited areas and "will do almost nothing for rural bus services which are under the biggest threat". "It's all dictated by the Treasury and it almost seems central government is in denial about the inevitable consequences of its decisions for bus passengers," he added.
"The difficulties are particularly great for small independent firms like EYMS which between them provide about one-quarter of the country's bus routes as they don't have the benefits of scale and other commercial interests to help support the business as a whole," concluded Shipp. "We're using every means at our disposal to save fuel through training and telematics but the savings come nowhere near offsetting these huge increases."