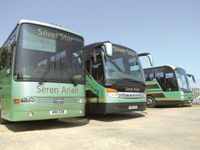 Craig Porteous based in Hull, stepped in last week to re-open the Caernarfon-based operator
Silver Star Holidays of Caernarfon has been brought back from the brink of administration after a backer – Craig Porteous – stepped in last week to save them.
Administrators were called in two weeks ago after 93 years of operation and devastated directors blamed high fuel costs and the current economic climate for the failure (CBW 1007).
Known locally as Seren Arian (Silver Star), the family firm started bus services between Caernarfon and outlying villages. It became a coach and holiday company and annually took 12,000 people on holiday in the UK and Europe.
Documents filed at Companies House show the new director of Silver Star Holidays is Hull-based Porteous. The 51-year-old also owns Yorkshire Bus & Coach Sales and runs a property development business in East Yorkshire, and ran a bus company in Hull until he sold it a few years ago.
Silver Star had said last week: "The previous management of Silver Star, with the backing of an established investor who recognised the future potential and importance of Silver Star to Caernarfon and the wider Welsh community, have restructured and re-opened a new company that will trade under the name of Silver Star Holidays Ltd/ Gwyliau Seren Arian Cyf.
"The legacy left by the old company coupled with the restructure, experience of previous staff and considerable financial backing will ensure the new Silver Star Holidays company faces a very bright future."
At least nine out of the previous 12 jobs have been saved with familiar faces being re-employed as the coach drivers as well as in the holiday shop, which opened for business from the time of the announcement (October 19).
Spokesman for the firm, Gavin Owen said: "The coaches operated by the former company are no longer available, but the new vehicles will be of the same high standard and will offer the same facilities as before."
Gavin told CBW vehicles would be hired via Craig's hire company. He also said Cibyn Industrial Estate would no longer be used as a depot and vehicles would instead be taken to Craig's depot in Yorkshire for maintenance, cleaning and repair "every few week". Coaches would temporarily be parked at Cibyn, however.
Gavin said the vintage vehicles which the former company used on the road are owned by the former MD, Elfyn Thomas' brother-in-law. "We will allow the dust to settle before starting them again."
The company said the 890 bookings it had when it went into administration can be refunded via "the CPT process". Gavin added passengers can then rebook if they wish. "We will endeavour to operate the original holiday packages which were available between November 2011 and April 2012," he said.
A new 2012 brochure will be published next month featuring old favourites as well as some new and exciting holidays and events.