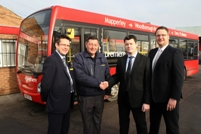 Nottingham-based Premiere Travel has secured a six-figure banking package to support its continued growth.
The operator is mainly using the finance to update its fleet. Jamie Swift, Brand Manager, told CBW: "We're moving some of the old fleet out. We've already received four Scania OmniCities for our Red 5 route which replaced some T-reg double deckers. We have also had some 59-plate Enviro300s.
"As our competitors are continually upgrading their fleets, it's important for us to keep up-todate too."
The transaction was arranged by Neil Kimberley of Affinity Asset Finance Limited, a national finance intermediary for businesses looking to secure funding, together with joint venture partner Paul Goodman of Goodman Corporate Consultancy. The finance has been provided by Neil Wade from The Co-operative Bank's corporate banking centre in Nottingham.
Stephen Greaves, MD and Owner of Premiere Travel, said: "Our previous finance facilities were effectively strangling the business when they should have been supporting our plans for profitable growth.
"We have used Neil Kimberley from Affinity Asset Finance for a number of years and he has always structured excellent vehicle funding solutions for us. Working with him to move our commercial banking means we now have the appropriate funding arrangements in place to support our growth ambitions."
Neil Kimberley, Director of Affinity Asset Finance Limited, added: "I'm delighted to have helped put in place the funding to meet Premiere Travel's ambitious plans.
"It is a company which has grown steadily under Stephen's stewardship and now has the right finance package in place to support its continued growth."
Neil Wade said: "Premiere Travel's situation was common to that of many companies we speak at the moment – they no longer felt they were getting the support they needed from one of the main banking providers.
"This is a further illustration of how we continue to support those small to medium sized businesses which are so important to helping the economic recovery."
For companies with annual turnover of more than £1m, The Co-operative Bank provides a dedicated relationship manager who is there to provide full support to the business.
Premiere Travel is a family-owned bus and coach operator largely serving the Nottinghamshire area. The company was formed in 2002 with a pair of Leyland Nationals and now provides local bus services for around 50 routes.