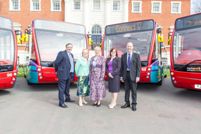 Network Warrington has had six Optare Versas delivered, with five being deployed on its new Connect17 orbital service linking residential areas of the town with places of work and education and the sixth on other routes.
The vehicles were handed over at a ceremony at Warrington Town Hall on Wednesday, May 1.
The new service has resulted from a successful bid made last year by Warrington Borough Council to the DfT's LSTF.
Chair of Network Warrington Maureen Banner said: "This new service is designed to meet stakeholders' needs. We want to encourage people to use our buses, which they will find modern, clean, safe and dependable."
Optare Sales Director John Horn added: "We are pleased our buses are proving themselves in Warrington by providing a good travelling experience. Receiving repeat orders from such a highlyregarded operator is always the best endorsement of the quality, reliability and fuel efficiency of our products and of the back-up support we provide."
With seating for 37 plus up to 23 standees, the 11.1m Versas have ample capacity to meet peak demands on the service. Passengers are also assisted by an audiovisual system making next stop announcements along with Mobitec LED destination equipment.
Power for the Versas is from the Euro 5 Mercedes-Benz OM904LA engine delivering 154 bhp (115 kW) and 610 Nm of torque. This is backed by a five-speed Allison automatic transmission with lock-up torque convertor and an electro-magnetic retarder is also fitted, both contributing further to the acknowledged fuel efficiency of the Mercedes engine.
This is the third time in two years Optare has supplied buses to Network Warrington. In April 2011 six Solos were delivered to replace time-expired Metroriders and last November six Versa diesel-electric hybrids were supplied with the help of the GBF.