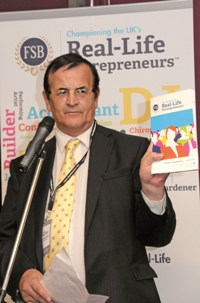 A dramatic fall in confidence over the economy has prompted small firms to lay off staff as costs rise and revenues decline.
A balance of 5.8% of small firms intend to lay off workers over the next three months, suggesting a further increase in the unemployment rate, the Centre for Economic and Business Research (CEBR) which conducted the survey said.
Polling around 1,600 members of the Federation of Small Businesses mid last month, the centre registered the largest increase in firms expecting to lay off staff since the survey began in the first quarter of 2010.
Employment intentions were being affected by the state of the economy, the centre said. The index fell by 9.6 points from a balance of plus 0.3 in the second quarter to -9.3 in the third quarter as more businesses lost confidence in the economy.
Charles Davis, economist at CEBR, said: "Companies relying on discretionary expenditure are especially negative, with the leisure, sports, entertainment and hospitality sectors showing the largest drops in confidence of any".
Optimism has also slumped in the manufacturing sector, with as many now concerned about the future as optimistic, down from a positive balance of 23 in the second quarter.
Confidence in the West Midlands and the South West has collapsed the fastest. In contrast, sentiment was balanced between those seeing prospects improving and those seeing tougher times in the East Midlands and South East.
Almost 80% of the businesses reported cost rises compared with a year ago, with a third reporting the increases were "significant". Utility bills, raw materials, labour and rents all rose steeply, the firms reported.
Company revenues, in contrast, continued to fall for the seventh consecutive quarter. The centre noted that firms were becoming less pessimistic about the extent of future falls, with balance of 7% expecting further falls in the final quarter of the year – the second lowest figure since the survey began.
John Walker, national chairman of the Federation of Small Businesses, said the Chancellor should respond to the collapse in confidence by extending national insurance (NIC) tax breaks designed to encourage new firms to hire more staff and by cutting VAT, echoing Labour's policy.
"As businesses come to terms with the double whammy of falling revenues and rising costs, it is no wonder that they're losing confidence, and unfortunately, as their overheads increase one simple way to control it is to lay off staff," he said.