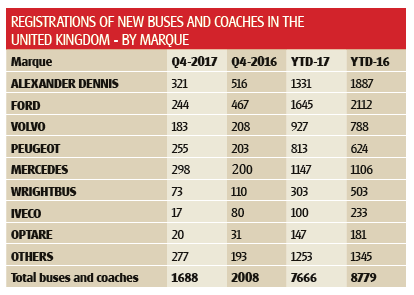 The UK's new coach and bus market fell in every quarter of 2017, according to figures released by the Society of Motor Manufacturers and Traders (SMMT).
Following a period of strong growth in 2015 and 2016, last year saw registrations decline by 12.7% to 7,666.
Double-decker demand saw the biggest fall across the year, declining 17.1% with 1,598 units registered. Single-deckers and minibuses also experienced declines, down 8.2% and 13.2% respectively.
Between October and December, 1,688 new buses and coaches were registered, falling 15.9%. Single-decker and double-decker registrations both saw double-digit declines in Q4, by 20.7% and 27.6% respectively, while demand for minibuses decreased by 5.7%.
Mike Hawes, SMMT Chief Executive, said: "Following strong market performance in the previous two years and the highly cyclical nature of fleet purchasing in this sector, it's no surprise to see orders fall in 2017. However, declining business confidence undoubtedly played a part.
"To encourage future long-term investment, operators must have economic and regulatory certainty. Government's proposed closure of the Euro 5 legislation loophole is overdue and must be implemented urgently if we are to get more of the latest low emission Euro 6 vehicles onto our roads and improve air quality in our towns and cities."