GERMANY
First two of 10 Urbino 12 electrics are in service in major German port city
The newest Solaris Urbino 12 electrics for Hamburg have started operating.
Two out of 10 ordered are already carrying passengers in daily traffic. Together with the electrics delivered in previous years, it means the fleet of Solaris buses at Hamburger Hochbahn will raise to 15 vehicles in the course of the year.
"With the new vehicles, we are consistently following the path to a completely zero-emission bus fleet," Claudia Güsken, Hochbahn Board Member for Operations and HR.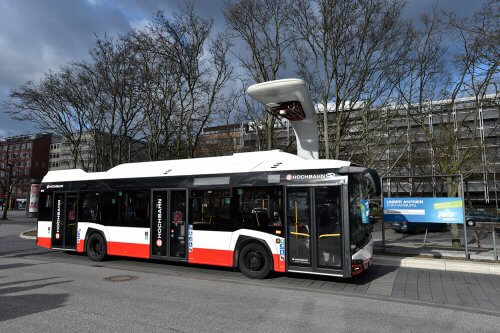 "This protects the environment, provides better air and sets new mobility standards in the city."
Solaris's CEO, Javier Calleja said: "We are very happy that with our electric buses we set the course towards environmentally friendly mobility and zero-emission public transport.
Electric buses provide cleaner air and less noise – a double win for every citizen."
The 10 Urbino 12 electrics were ordered by Hochbahn last year.
They will be charged via plug-in charger at the depot and will have a guaranteed range of 150km.
The three-door battery buses will carry up to 70 passengers, with 25 of those seated. Power will be supplied by Solaris high energy batteries with a capacity of 240kWh.
Two electric motors on the drive axle convert kinetic energy back into electricity when braking.