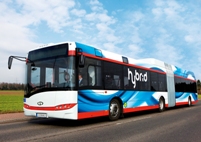 Solaris bus expands its Scandinavian presence with TKL's recent order
POLAND Solaris Bus has received its first order from Finland, bringing the company's international presence up to 25 countries.
Two eco-friendly Urbino hybrid buses will join the fleet of Tampere's Tampereen Kaupunkiliikenne (TKL) by the end of the year. This comes just two months since the start of Solaris' cooperation with local specialist Valmet Automotive.
"Finland is another Nordic country that will operate Solaris buses. We are delighted to increase our presence in Europe. We are sure Finnish passengers will like our eco-friendly buses just as much as their counterparts in Sweden, Norway and Denmark," said Ma?gorzata Olszewska, Global Director Sales & Marketing.
The buses combine a 44 kW electric engine with a Cummins diesel engine meeting the EEV standard. Power is transmitted through a six-speed automated gearbox in the hybrid drive unit. Energy recuperated during braking is stored in lithium-ion batteries and is used for acceleration.
The western Finnish city of Tampere is served by TKL's 30 routes, operated with 135 buses.
Solaris is also delivering seven Urbino 18 Hybrid buses to La Chaux-de-Fonds in Switzerland this summer for Transports Régionaux Neuchâtelois. It is the first time this customer has chosen articulated diesel-electric hybrid buses.
"We are very pleased an increasing number of countries choose our eco-friendly city buses. They represent environmental protection as well as sustainable transport – exactly what the future needs", said Ma?gorzata Olszewska.
The Allison Transmission-supplied hybrid system combines electric motors delivering a total of 150 kW with a 181 kW Cummins diesel engine. The diesel-electric drive train uses up to 25% less fuel than conventional diesel buses. Harmful emissions such as particulate matter are reduced by as much as 78%.