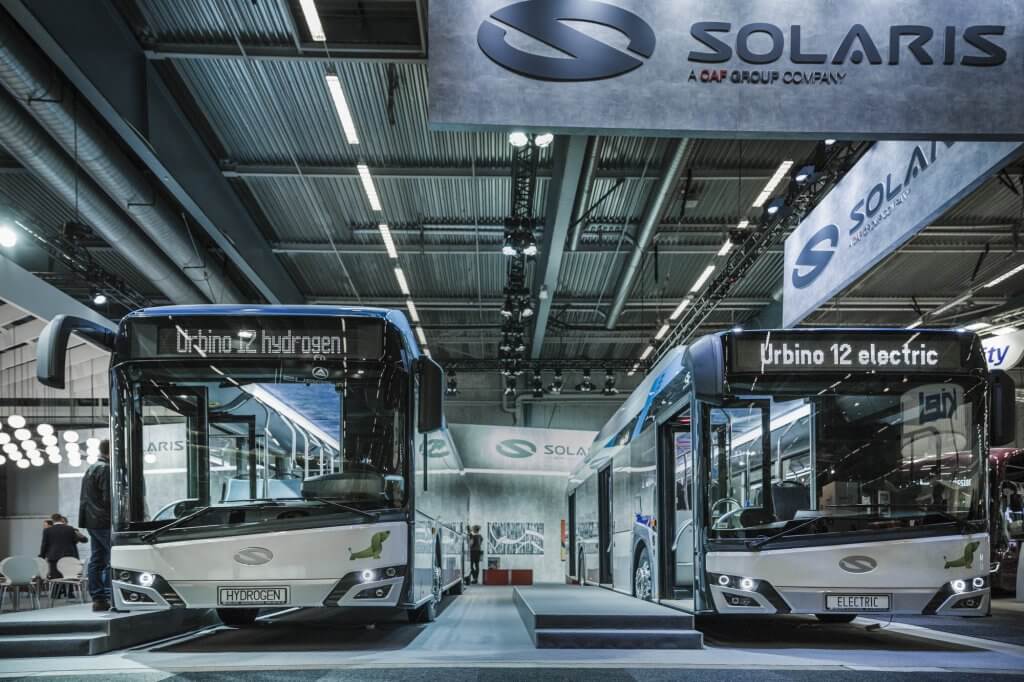 Solaris adds Urbino 12 hydrogen option to its emission-free vehicle portfolio and secures a first order from Italian city of Bolzano
Solaris gave its Urbino 12 hydrogen its world premiere at the UITP Global Public Transport Summit in Stockholm where it was exhibited alongside an Urbino 12 electric, which has been given an updated appearance since the beginning of the year.
Solaris says that hydrogen-fuelled buses will allow it to create an emission-free bus portfolio that's complementary. The development of all electromobility branches, be they battery buses, trolleybuses or hydrogen-fuelled vehicles, should proceed in synergy, it says, and that this process is indispensable to ensure sustainable transport for the future.
Solaris gained its first experience with hydrogen when it designed battery vehicles using fuel cells as range extenders. As part of the JIVE initiative, it supplied two Urbino 18.75m electric to Hamburg and 10 trolleybuses with hydrogen-based range extenders to Riga.
The Urbino 12 hydrogen is fitted with a fuel cell that acts as a miniature hydrogen power plant onboard the vehicle. Thanks to the use of advanced technology, the bus will be capable of covering up to 350km on a single refill.
With a hydrogen fuel cell, electric power is generated in a process called reverse electrolysis and then passed on directly to the driveline. The sole products of the chemical reaction occurring in the fuel cell are heat and steam.
Consequently, the vehicle does not generate any noxious substances whatsoever.
SASA in the Italian city of Bolzano is the first to order Urbino 12 hydrogen buses. "Bolzano invests strongly in modern and clean public transport," said Petros Spinaris, Deputy CEO of Solaris Bus & Coach S.A.
"I am very happy that Solaris can be a part of it delivering its newest zero-emission technologies. SASA already has our Urbino electric buses. Now Solaris and Bolzano go hydrogen."
The contract includes an eight-year service and maintenance package and will also include special drivers' and workshop personnel's training emphasising the safety aspects of using and servicing hydrogen vehicles.
During the UITP Global Public Transport Summit, representatives of Solaris and Régie Autonome des Transports Parisiens (RATP) signed a contract for lease and tests of the Urbino 12 hydrogen over 10 weeks in April-June 2020.
In May RATP signed a contract with Solaris for delivery of an Urbino 8.9 LE electric with the option of extending the order for more e-buses with a total value of €10m.
Read more news here: cbwmagazine.com/category/news