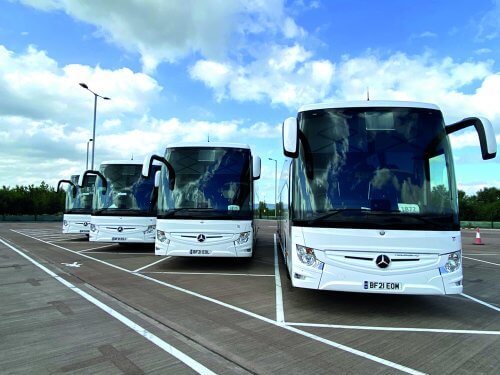 Somerset Passenger Solutions (SPS) says it is 'delighted' to launch a new mobile app to support driver and vehicle performance, reduce CO2 emissions and enhance safety and passenger experience. The new app, provided by Webfleet Solutions, will enable drivers to see how their driving rates against a number of standard indicators, which will show how and where they can improve individual driving performance. The new software offers active driver feedback and advice on idling, speeding and harsh steering, coaching the driver to make adjustments and helping to keep vehicles safe and passengers content.
SPS says the app will also improve vehicle performance and, with enhanced visibility of the data available, increase overall fleet efficiency. The operator said that notable improvements are expected in mileage and mpg, plus the ability to identify abnormal fuel usage and therefore reduce carbon emissions.
Ian Bell, Head of Operations, said: "Implementation of this technology will enable us to further improve our excellent safety and driving record and the passenger journey experience. It is a great opportunity for our drivers to see how their driving rates against a number of standard indicators and show how and where we can improve our individual driving performance."
SPS was formed in 2016 as a joint venture between First Group and JJP Holdings to serve the passenger transport needs of the new Hinkley Point C nuclear power station construction site, the largest construction project in Europe. Having begun with 40 employees and 8 vehicles, the operator now has over 400 employees and a growing fleet.