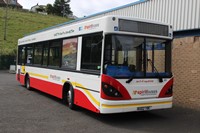 Spirit Buses of Rothbury, Northumberland, is to cease operating its current bus services after the completion of its current contracts, according to the Northumberland Gazette. The news was revealed on Wednesday, September 14, after Director Steve Hurst said the offer of additional support from Northumberland County Council was 'not sufficient to secure its services.' He said: "This would inevitably mean we would thereafter have to tender to run our own services in the future if we accepted this offer."
Northumberland County Council is seeking an operator to replace Spirit Buses so the service can continue.
The development follows a statement posted on Spirit Buses' website by Steve Hurst, providing an update on its current situation.
The statement read: "Our services 15, 16 and 406 are all currently run on a commercial basis with additional deminimis support payments from Northumberland County Council. These are then further boosted by frequent and generous SoS (Support our Services) donations either via tickets bought on the bus, online payments or fund raising events.
"As these services were all based on unknown figures it has always been a trial and error approach to operations. We initially saw great success with our Alnmouth Station 'bus meets train' service and working alongside Travelsure to provide a variation to the Alnwick town service – however the extension of the X20 to serve Alnmouth and rerouting of the X15 through Alnwick by Arriva North East saw our figures drop, impacting our financial viability to support the more rural services. "We also heavily rely on inward connections at Rothbury from Newcastle and Morpeth via Arriva's X14.
"In September Northumberland County Council re-awarded Arriva the contract to run this service again as they have for the past number of years. Unfortunately Arriva's reduced timetable does not fit around any of our existing connections and we are unable to create a viable alternate timetable without disrupting the above mentioned connections, fitting consulted passenger's needs or running in daylight hours to ensure reliability in winter. "This will cause serious damage to our income and also disruption to residents and businesses in Upper Coquetdale.
"Spirit Buses did place a competitive tender to run the Rothbury – Morpeth service which included guaranteed through connections to Newcastle as well as with our own current services to Coquetdale. This would have also guaranteed all our services for the next five years (the length of the contract).
"However, we were unsuccessful on the grounds that the Arriva tender provided more value for money to Northumberland County Council and the community than we could."
A spokesman for Spirit Buses told CBW it was a business decision to stop operating the service and the business itself has not stopped trading or gone into administration.