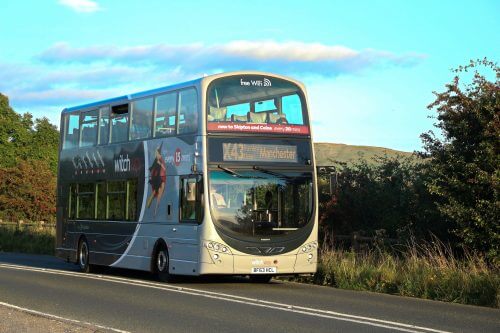 It flies faster than a speeding broomstick to the heart of the city, and today (Tuesday October 31 2017) Transdev's East Lancashire Witchway express bus service will be celebrating the spookiest day of the year with treats – not tricks!
The fang-tastic team behind the Witchway will be at Burnley bus station giving out a wicked selection of sweets and drinks to make Halloween complete.
The ghoulish giveaway will promote the Witchway express bus service, which links Burnley with city centre Manchester in one direction – and Skipton in the Yorkshire Dales in the other.
Witchway General Manager, Steve Ottley, said: "Our service is of course named after the famous Pendle Witches and our 'good witch' logo has become one of the best-known symbols of East Lancashire. Like the saying goes – if you've got it, 'haunt' it!
"We'll welcome shoppers in Burnley onto one of our comfortable Witchway buses to tell them more about the service, and enjoy our Halloween family treats – and when they find out how we can take them to the heart of the city or deep into the Dales for less, we'll soon have them under our spell!"
The magic begins from the moment passengers step on-board the Witchway…and with leather seating, ample leg room and fast and free WiFi throughout, there's nothing to fear – the bus beats the broomstick every time!
The operator says that Witchway is scarily good value too, with bargain day, week and monthly tickets available for local travel in Burnley, within Lancashire or across the North on a vast network of routes stretching hundreds of miles from Preston to the Yorkshire Coast.
The new Transdev Go smartphone provides Witchway times, fare deals and up-to-the minute service information – and it's free to download from the Apple App Store or for Android device users from the Google Play store.
Full details of Witchway times and best value fares are also available online at https://www.lancashirebus.co.uk