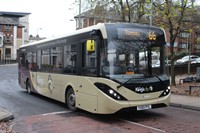 Order includes almost 480 new vehicles, with investment in regional operations, London operations, express bus and Megabus.com services
Stagecoach Group has announced a £97m new vehicle order.
The order is for a new fleet of 478 vehicles which will be introduced in the coming 2016-17 financial year. The company said it is continuing its policy of reinvesting profits in improving services for customers.
The latest announcement takes Stagecoach Group's total orders of new coaches and buses to more than £1billion since 2006/07, covering more than 6,500 new vehicles.
From this year's orders, £82m of new coaches and buses will be introduced in Stagecoach's regional networks in England, Scotland and Wales, while £10m is being invested in new buses for London. Around £4.5million will be spent on coaches for the group's Megabus.com operations.
Most of the new vehicles are set to be built in the UK and all will meet Euro 6 emissions standards.
All of the new vehicles will be fitted with CCTV, while most will also have WiFi installed.
The latest orders follow an annual competitive tendering process and the first of the new vehicles will be delivered from Spring 2016.
Almost 280 low-floor double-decker vehicles are to go into service across the UK, along with almost 100 single-deckers and midi vehicles and 14 coaches for UK Bus express service, as well as 13 new coaches for Megabus.com and 30 minibuses for local regional companies (along with six Optare Solo SRs for the same applications). Around 65 of the new buses will be used for Stagecoach Gold services.
In London, the £10m order is for more than 50 new vehicles.
Stagecoach Group Chief Executive Martin Griffiths said: "Everything we do is about making travel even better for our customers.
"We are investing in state-of-the-art, cleaner, greener vehicles, digital technology and smart ticketing to raise the bar and deliver an even higher standard of service. These latest vehicle orders are an important part of our strategy to encourage even more people to take the bus.
"Local bus services are the backbone of the country's transport networks. Stagecoach provides millions of people every day with a greener way to access work, health, education and leisure and we offer the best value bus fares in Britain."
Stagecoach also named a number of suppliers who are set to benefit from the order. These include Synectics (CCTV), Icomera (WiFi), Chapman Driver Seating (driver seats), Lazzerini (Italy – bus passenger seats), Fainsa (Spain – Plaxton coach seats), Hanover Displays (destination equipment), Passenger Lift Services (PLS – wheelchair lifts) and Shades Technics (coach toilets).
The vehicles included in the order in detail are:
UK Regional Operations
278 ADL Enviro400 MMC double-deckers
71 ADL Enviro200 MMC single-deckers
13 ADL Enviro200 MMC midibuses
11 Volvo B11R Plaxton Elite 6×2
2 Volvo B11R Plaxton Elite 4×2
1 Volvo B11R Plaxton Elitei
30 Mercedes-Benz Sprinter City 45 minibuses
6 Optare Solo SR Slimline midibuses
Megabus.com Operations
7 Volvo B11R Plaxton Elitei
6 Van Hool Astromega double-deckers
London Operations
37 ADL Enviro400 MMC Hybrid double-deckers
3 ADL Enviro400 MMC double-deckers
13 ADL Enviro200 MMC single deckers