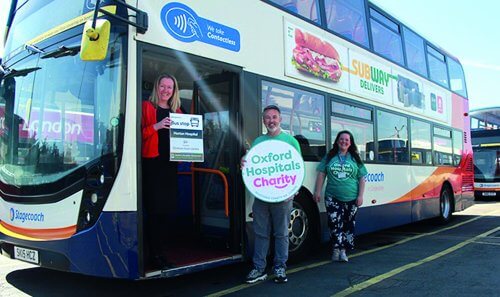 A new partnership will see Stagecoach staff working at Banbury, Oxford and Witney depots undertake a range of fundraising activities throughout the year for their fellow keyworkers at the Oxford Hospitals Charity and the patients and families it supports. Planned activities include driver dress up days, cake sales, and sponsored sporting events.
Oxford Hospitals Charity makes a difference to the wards and departments across the John Radcliffe, Churchill Hospital, Nuffield Orthopaedic Centre and the Horton General Hospital in Banbury. Stagecoach's fundraising efforts will contribute towards specialist medical equipment and features to improve patient wellbeing, as well as providing the very best training and support to staff working across the four Oxfordshire hospitals.
To kick start the partnership, Stagecoach has donated a Dementia Bus Stop to the Horton General Hospital. The Dementia Bus Stop will be placed in a new reminiscence room in the hospital which is being designed to offer a safe and quiet space for dementia patients who can become anxious when in unfamiliar environments. The reminiscence room will feature a host of objects that will be familiar to patients, and therefore help to relax and reassure them. Alongside the bus stop, where patients will be able to sit and relax in recognisable surroundings, the room will include pictures of Banbury from many years ago, Dementia-friendly games, an old-fashioned radio, a television playing black and white films, and a large aquarium full of tropical fish.
Emily Waddell, Community Fundraising Manager at Oxford Hospitals Charity, commented: "We are absolutely delighted to have been selected as the Stagecoach Charity Partner. We truly admire their passion, company ethos, enthusiasm and commitment towards charitable giving and we can't wait to get started on working together on some incredible projects! It makes it all the more special knowing we have been chosen by their own key workers, to help support our own key workers across all of our hospitals, as well as our patients."
Karen Coventry, Commercial Director at Stagecoach in Oxfordshire, added: "We are proud to be supporting Oxford Hospitals Charity for the next year. Supporting local charities is something we hold close to our hearts at Stagecoach in Oxfordshire and after a tough year, the drivers and staff throughout our Oxfordshire network wanted to support a charity which has given so much to the community. The Dementia Bus Stop is the first step in our support for Oxford Hospitals Charity, and we look forward to a year of fundraising, by keyworkers, for keyworkers."