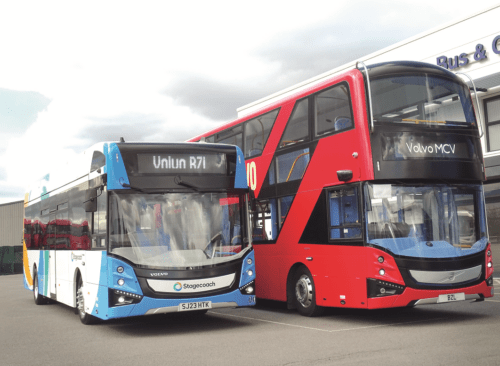 170 fully electric Volvo BZL vehicles are to be introduced in Stockport by the summer of 2024
Stagecoach has announced plans to introduce 170 fully electric vehicles to its Stockport depot with its largest electric bus order to date. The new electric fleet of 150 MCV-bodied Volvo BZLs will be split between 20 single-deck and 150 double-deck variants and represents an investment by Stagecoach of £37.2m. The first vehicles are scheduled to be delivered in summer 2024.
The buses will be jointly funded by Stagecoach and local and national government, with Stagecoach's £37.2m investment match-funded by £35.7m from Greater Manchester's successful Zero Emission Bus Regional Areas (ZEBRA) bid and an additional contribution of £12.5m by Transport for Greater Manchester (TfGM) and the Greater Manchester Combined Authority (GMCA).
The new electric buses will feature hearing induction loops and audio and visual announcement systems.
The order builds on Stagecoach's progress towards its aim of a zero-emission fleet by 2035, and adds to the 122 electric buses already on order for its networks across the UK that are due to be delivered in the next 12 months. The operator has also recently introduced its first fully electric bus cities in Perth, Aberdeen, Inverness and Dunfermline in Scotland. Engineering Director Sam Greer said: "We're excited to be announcing our largest electric vehicle order to date, which will be a major step forward in improving air quality across the region. This builds further on the investment being made by Stagecoach across the country to support the transition to a zero-emission bus fleet."