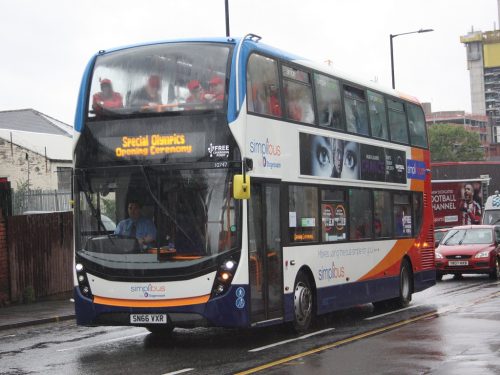 Stagecoach provided transport for the Special Olympics Great Britain (SOGB) team, with the National Games taking place in Sheffield last week.
As Games Partner, Stagecoach drafted in 20 extra drivers and 20 additional vehicles from Manchester and the East Midlands, as well as providing supervisor staff to complement its own team of local driving staff and supervisors, throughout the event.
The operator provided transport between the athletes' event accommodation and the dozen venues across the city, hosting the games which took place until August 11.
Held every four years, the flagship SOGB National Summer Games is the country's largest multi-sports event for athletes with intellectual (learning) disabilities.
Now in its 10th year, the games saw athletes compete in 20 sports, including football at Sheffield Hallam University Sports Park, swimming and boccia at Ponds Forge International Sports Centre, and badminton, table tennis and judo at the English Institute of Sport Sheffield – EISS.
Speaking ahead of the event, John Young, Commercial Director of Stagecoach Yorkshire, said: "We're really proud to be helping make travel easier for the Special Olympics athletes by providing reliable and efficient transport to and from the games.
"As well as securing additional resources, we have been busy training and briefing our staff for this exciting challenge to ensure we deliver a medal-winning travel experience for all the athletes."
Karen Wallin, CEO of Special Olympics GB, said: "We are delighted and grateful for this support from Stagecoach. They will be making sure our athletes have a fabulous experience during the games by ensuring their safe travel throughout the city.
"This is a seminal year for the games as we celebrate 10 years and we're sure this will be our most successful event yet."