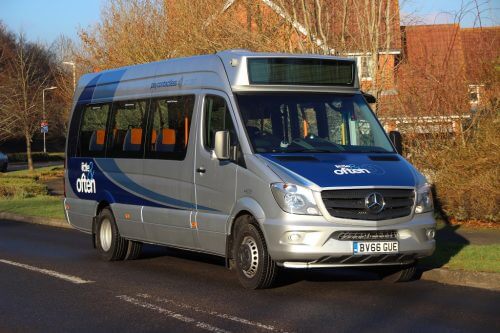 Sprinters are to be replaced with 17 Optare Solos and some services are dropped from the Little & Often brand
Stagecoach is dropping the Mercedes-Benz Sprinters from its Little & Often service in Ashford, Kent.
The vehicles are to be replaced by 17 Little & Often-branded Optare Solos from June 3, 2018.
Currently, four services fall under the Little & Often brand – B, C, E and G – each of which were launched in February 2017.
Stagecoach found that routes E and G did not see an increase in bus patronage as a result of Little & Often.
These two services will be discontinued and incorporated into the wider bus network.
Route B will continue under the Little & Often brand, with a reduced frequency of every 12 minutes (from every 10), with evening and Sunday services running every 30 minutes.
Route C will retain its current frequency, with evening buses running every 30 minutes. Sunday services on the C will continue to operate every 15 minutes.
The changes will effectively increase the seating capacity per hour of service B by 32%, and service C by 59%.
A new route will be joining the Little & Often brand – route A. The previous route A will be split into two parts, with the sections from Singleton remaining as route A and the section from Stanhope being changed to route D.
The Little & Often route A will run every 10 minutes, and the two routes will combine into route AD during evenings and Sundays.
Kent News reported that 45% of passengers had said they were not satisfied with the space and comfort levels provided by the Sprinters.
It said the Optare Solos would provide 60% more capacity.
Stagecoach commercial director Matthew Arnold said: "We have seen a fantastic 35% increase in passenger numbers since we introduced Little & Often, but we have now reached a point where we can't support further growth with the existing vehicles.
"We are pleased to be bringing in vehicles with additional capacity, providing more seats with extra space and legroom for customers.
"It is now time for Little & Often to evolve to the next stage."