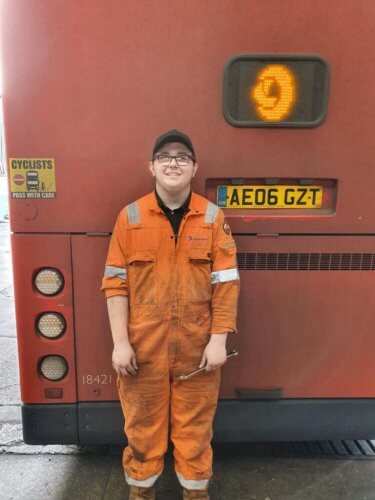 Stagecoach East marked National Apprenticeship Week by shining a light on the young people who are currently undertaking apprenticeships with the operator in Cambridgeshire, Bedfordshire and Peterborough.
21-year-old apprentice Tyler Brace first joined Stagecoach East for work experience back in 2017, whilst studying for his car mechanic Level 2 qualification, and shortly after applied for an apprenticeship with the bus operator. Since September 2018, Tyler has been carrying out an apprenticeship at Stagecoach's Peterborough bus depot, as part of his NVQ Level 3 qualification, which includes online classes from his college and GTG Training in Wolverhampton, alongside his work experience with Stagecoach.
Tyler also received the Apprenticeship Lecturer's choice award in September 2019 after just one year of his apprenticeship. He is one of four apprentices currently employed by Stagecoach East, and joins fellow students Marius in Cambridge, Will in Fenstanton and Michael in Bedford.
Stagecoach East has a rich history of apprentices, with many of the current senior members of staff starting as apprentices in their early careers, including all the Engineering Managers and the newly appointed Managing Director, Darren Roe. This practice of passing on skills, knowledge and expertise through the generations remains an important part of Stagecoach East's ethos and the firm says it is committed to continuing its tradition through their present day apprenticeship schemes.
Darren said: "During these tough times, it's so important to be highlighting the good news stories in our region and spreading some positivity, which is why we are delighted to be celebrating National Apprenticeship Week and recognising our amazing apprentices at Stagecoach East.
"We are passionate about supporting young people at the start of their careers and giving them the help they need to kickstart their future in the automotive and transport industry. Our apprenticeships offer the chance for students, working towards a career in this sector, to gain valuable skills and real-life experience as well as the opportunity to meet industry employers, advance their qualifications and stand out from the crowd when it comes to applying for live vacancies.
"We are all so proud of our fantastic apprenticeships and urge anyone currently studying towards a career in this industry to reach out and enquire about our work experience opportunities."