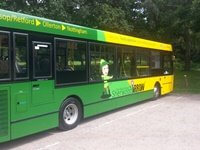 Four figures from Robin Hood legend adorn vehicles on the council-subsidised service
Characters from the Robin Hood legend will make up four new character buses in Nottinghamshire for Stagecoach East Midlands.
The operator has re-branded its Sherwood Arrow service by introducing four character buses onto the route: Robin Hood, the Sheriff of Nottingham, Maid Marian and Friar Tuck.
The Sherwood Arrow service, partly funded by Nottinghamshire County Council, serves the rural areas between Nottingham, Ollerton, Worksop and Retford. A launch event in Ollerton was due to take place on July 26.
Attractions such as Sherwood Forest and Rufford Park can be reached by using one of the character buses, as well as Wheelgate Park and White Post Farm.
Michelle Hargreaves, Stagecoach East Midlands Managing Director, said: "We are thrilled to announce that new character buses are now in service on the Sherwood Arrow.
"With the area's strong links to the legendary tale, it seemed fitting to incorporate this into the rural service we offer.
"Sherwood Arrow is a great service for families to use as you can get out to explore and visit the countryside where there are many attractions just waiting to be enjoyed this summer. We hope that the characters will be well received by children and adults alike."
Stagecoach said that Robin Hood and his merry men will be travelling around Worksop on July 27, performing flash mobs at bus stops around the town and handing out chocolate coins and timetables.
Children will also have the chance to complete a Robin Hood collection of badges. With one for each bus character, they will be available on the matching character bus when a child has paid a child fare or is accompanied with a fare-paying adult. Drivers will also have badge collection cards for each child, for them to record their collection. By sending in photos of completed collections via Twitter and email, children will have the chance to win a £100 toy voucher.
Cllr Kevin Greaves, Chairman of the Transport and Highways Committee at Nottinghamshire County Council, said: "The Sherwood Arrow provides an excellent service to enable bus passengers to visit local visitor attractions between Worksop and Nottingham, such as Rufford Abbey and Sherwood Forest, and this new initiative is timely as the company is also the official travel partner for the 32nd annual Robin Hood Festival at Sherwood from August 1-7."
Sherwood Arrow bus service offers Family Explorer tickets, which cost £10 for two adults and up to three children. Alternatively, an Adult Explorer ticket costs £5.80 and a Child Explorer £3.90, which gives unlimited access all day on Sherwood Arrow buses and throughout Nottinghamshire.