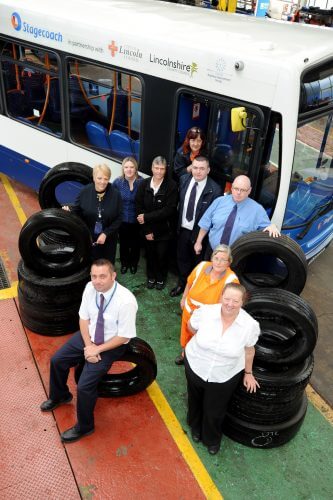 The initiatives have seen the operator's employees collectively lose over 83 stone
Stagecoach East Midlands has introduced an array of health initiatives, featuring boot camps, exercise bikes and free fruit, amongst other health-boosting initiatives to aid the well-being of its team.
Michelle Hargreaves, Managing Director, and Helen Smith, Operations Manager, spearheaded a project at the end of 2016, and created a Health and Well-being Committee to develop health-improving ideas. They recognised the importance of equipping colleagues with the tools and knowledge for a healthy lifestyle.
They launched a competition – called The Biggest Loser – in January, 2017, across all Stagecoach East Midlands depots. Across the course of the year, 83st 4lb and 5oz was lost by employees. A weekly weigh-in was introduced and staff were encouraged to follow a healthy lifestyle to become the 'Biggest Loser'.
The competition was won by the Skegness team who, between them, lost over 17st 6lb 12oz. They were awarded a cheque for £500 to present to their nominated charities – £250 to MacMillan Cancer Support and £250 to the British Heart Foundation.
The biggest loser overall was Liz Grocock from the Lincoln Depot, who lost 2st 4lbs and won an annual membership to her local gym.
Various initiatives have taken place through the year. Free fruit is delivered every Monday to all depots. This has been so successful that some depots have introduced free fruit on other days. Healthy meal ingredients and menus are now being delivered to depots every week. Employees were also able to take part in boot camps, ride exercise bikes that powered smoothie makers, and given cooking equipment to make quick and healthy meals at work.
All 1,300 staff members were encouraged to take part in the Pedometer Step Challenge, including office-based workers, managers, engineers and bus drivers. Participants were given a pedometer to track their daily steps.
Winners were announced from each of the Stagecoach locations, with eleven winners completing a total of 5,299,563 steps between them. The overall winner – Steve Robinson from the Grimsby depot – also won £500 for his depot's chosen charity – St Andrew's Hospice.
Managing Director, Michelle Hargreaves, said: "With our workforce in a position where they are often sat down for long periods of time, we created an initiative that was fun, good for staff, increased morale and productivity across the workplace, and helped build and improve working relationships within the depots.
"We are dedicated to becoming the employer of choice in the East Midlands and part of that is about the well-being of employees. The programme promotes maintaining physical and mental health, as well as keeping the workforce motivated, engaged and healthy. In just a year, the project has become part of our ethos – to work with and listen to staff and offer them the support to maintain an active, healthy lifestyle."
Stagecoach is also partnering with health-related charities to hand out advice and information.