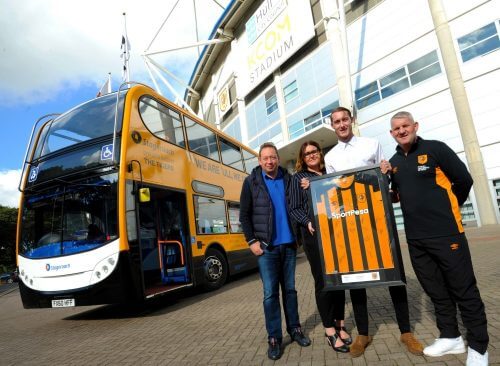 The rebranded Enviro400 will operate Park & Ride services on match days
Stagecoach East Midlands has rebranded one of its Alexander Dennis Ltd (ADL) Enviro400 double-deckers with a striking design, inspired by Hull City Tigers. The vehicle previously adorned a Frequento livery and had been named Sir James Beckitt.
The launch of the redesigned bus took place on Thursday, September 28. Club legend Dean Windass and Head Coach Leonid Slutsky attended the launch to have photos taken with the bus, along with Kerry Ryan from Stagecoach.
The competition to design the bus ran at the end of last season, and the winner, Mark Reeves, said: "At the time of entering the Stagecoach competition I was a graphic design student at York St John University specialising in public transport design.
"My design focused on the instantly recognisable colours and tiger imagery associated with the Club, but also putting the fans at the forefront of the design with the two popular terrace chants 'City of Culture' and 'We are 'ull'.
"I've also included some subtle references to club legends and cult heroes such as Dean Windass and Raich Carter on both sides of the bus."
Kerry Ryan, Operations Manager for Stagecoach in Hull, said: "We are pleased to be supporting Hull City Tigers. The Tiger bus is a great way to celebrate the team, the fans and our partnership with the Club.
"The bus will operate at home games, and will provide customers with a fantastic way to travel – on a bus designed by a dedicated fan."
Joe Clutterbrook, Commercial Manager at Hull City Tigers, added: "We are delighted to continue our partnership with Stagecoach for a further season. Stagecoach provides a great service to the local community and we cannot wait to see their newly wrapped bus in action, transporting our supporters to the KCOM Stadium on match days. We hope that this bus will highlight our partnership with Stagecoach for years to come."
The vehicle will operate on the Park & Ride service on home match days, and will run on services around the city.