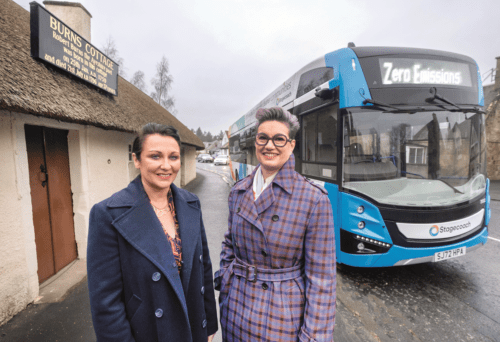 Stagecoach West Scotland is to increase its electric fleet to 48 buses, and will be the first operator in the UK to place the new MCV-bodied Volvo BZL into service
Stagecoach West Scotland unveiled its fleet of 27 fully electric buses at a launch event on 20 February at the birthplace of Robert Burns, Burns Cottage. The company's investment of around £15.7 million adds 25 Volvo BZL single-deck buses to the fleet, the first to operate in the UK, along with two BYD ADL single-deckers, taking the total BYD ADL fleet to 17 in the division. Stagecoach also invested in 21 new charging stations during recent upgrades to its depots at Kilmarnock and Ayr, and expects the new fleet to reduce its net carbon impact by 1,433 tonnes of carbon dioxide equivalent (tCO2e) per year compared to using equivalent diesel buses.
At the launch, guests including MSP Siobhian Brown were able to view the new buses and chatted with employees from Stagecoach about them. Stagecoach West Scotland Managing Director Fiona Doherty said: "This is an exciting day for Stagecoach as we launch our new fleet of electric buses, which will serve communities in Ayr, Kilmarnock and Irvine with zero-emission public transport. This multi-million pound investment is part of our strategy to decarbonise our fleet and bring state-of-the-art bus travel to our customers in the urban areas we serve. Bus travel is one of the greenest forms of transport available and we encourage everyone to leave their cars at home and try our new electric buses."
The investment was supported by the Scottish Government's Zero Emission Bus Challenge Fund (ScotZEB). Scottish Minister for Transport Jenny Gilruth said: "With this significant introduction of 27 new electric buses, Stagecoach continues to demonstrate a real commitment to help meet Scotland's world leading climate change targets. I'm pleased that the Scottish Government has been able to support the ambitions of Stagecoach West Scotland, as part of our Mission Zero for Transport, by providing £8 million through our Scottish Zero Emission Bus Scheme. This is in addition to a further 25 electric buses introduced by Stagecoach for Inverness, supported with £5.8 million in funding support from the Government.
"Choosing bus is already a fantastic choice for our environment. Zero-emission buses offer even more benefits. Communities across Ayrshire will benefit from improved air quality and reduced noise pollution, helping more people to choose bus."
Domenico Bondi, Managing Director of Volvo Bus UK & Ireland, commented: "Stagecoach West Scotland is a prestigious UK launch customer for the new Volvo BZL electric. They know precisely what they want from an OEM partner, and they expect a strategic-level supplier to understand their needs and support their long-term goals, with a focus on sustainability, safety, reliability and passenger comfort. It's a terrific order to win, and we are confident these new vehicles will perform fantastically well across Ayrshire, providing a solid platform for sustainable and efficient public transport."
Marie Connell, National Account Manager at Alexander Dennis which supplied an addtional two Enviro200EV single-deckers, said: "We are delighted to continue to support Stagecoach as it transitions to a zero-emission bus fleet across Scotland. Our BYD ADL Enviro200EV midibuses are a great fit for services in Ayrshire, with the 15 already in service in Kilmarnock joined by a further pair of buses now. Customers will love the smooth acceleration, air conditioning and comfortable Alexander Dennis SmartSeats, while drivers will benefit from a familiar vehicle. Thanks to the Scottish Government's support through ScotZEB, these buses have helped to underpin skilled jobs and apprenticeships in the UK bus manufacturing industry."
Stagecoach says it is on target for a zero-emission UK bus fleet by 2035.