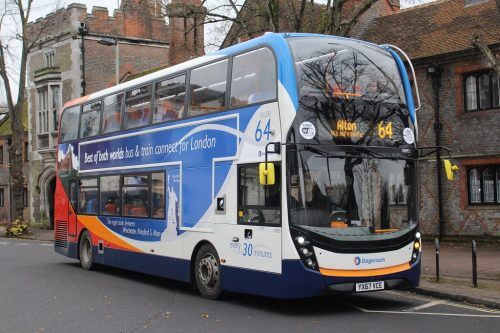 Stagecoach Group has released its interim financial results for the half-year ended October 28, 2017, showing an increase in overall profits but a decrease in profit from UK bus operations.
Overall revenue fell from £2.0bn to £1.8bn, with regional UK Bus operations seeing a £1.5m revenue fall to £512.4m and London operations falling by £3.1m to £128.4m.
The group's overall operating profit increased by £5.9m to £114.8m, with profit before taxation up £7.2m to £96.7m. However, UK bus operating profits were down, with regional operations seeing a £3.3m decline to £61.6m and London falling by £3.6m to £6.5m.
Interim dividend per share remained constant at 3.8p, with earnings per share increasing from 12.7p to 13.6p.
Stagecoach CEO, Martin Griffiths, commented: "I am pleased to report half-year financial results in-line with our expectation.
"We have made positive progress across our businesses. In UK rail, we are working with the Department for Transport towards new contracts at Virgin Trains East Coast and Virgin Trains West Coast. Our East Midlands Trains franchise has been extended through to March 2019, with the prospect of us agreeing a further direct award franchise from March 2019, and we are part of shortlisted bids for new South Eastern and West Coast Partnership franchises.
"In bus, the actions we have taken on pricing, services operated and commercial initiatives across our regional UK bus operations are delivering the results we expected, while our London bus business has had success in winning new contracts. In North America, we have seen improved revenue trends, new contract wins and growth in profit.
"We are focused on making further progress in the second half of the year and have maintained our expectation of full year adjusted earnings per share."