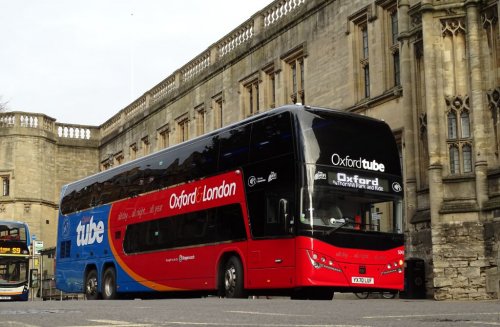 Staff at Stagecoach in Oxfordshire and Stagecoach West were informed on 23 February that both operating companies (OpCos) are to merge to form a single OpCo.
Rupert Cox, Interim Regional Director for Stagecoach in the South, said: "As with all companies, we continually review our ways of working to ensure that we are meeting the needs of our customers and communities and at the same time maximising the opportunities ahead.
"We will be making some changes to the head office functions in our businesses in the west of England and Oxfordshire. A new structure will be introduced, providing a management team that is responsible for bus and coach services across all of these areas that will be based in a head office at Gloucester. A small number of roles will change as a result of the new planned structure and we are working with our people to support them through this period.
"This will have no impact on our bus services and customers can continue to use our services with confidence."
Further changes are set to take place on 28 February, when Stagecoach in Oxfordshire's Banbury depot will sever its final ties to Midland Red (South) Ltd, its registered bus services and operators licence changing to Thames Transit Ltd.
Services 200, 488/9, 500, 505, B3, B5, B9, H4 and S4 are currently registered to Midland Red (South) Ltd due to the depot previously being owned by Western Travel prior to moving to Stagecoach ownership in 1993.
Banbury depot remained part of Stagecoach Midland Red until Stagecoach South Midlands, the integration of Midland Red (South) Ltd and Thames Transit Ltd, was formed.
When the Stagecoach South Midlands division was split up in 2004 the Banbury depot came under Stagecoach in Oxfordshire management but retained Midland Red (South) Ltd legals and operators licence. The merger will, ironically, reunite Banbury depot with former Western Travel OpCos in the West.
Stagecoach in Oxfordshire has depots in Banbury, Oxford and Witney with outstations at Bicester, Chipping Norton and Grove. Its operating area borders that of Stagecoach West, particularly in West Oxfordshire. Stagecoach West has depots located in Bristol, Cheltenham, Gloucester, Ross-on-Wye, Stroud and Swindon with a single outstation located in Coleford. The combined fleet size will number over 520 vehicles with over 1,370 staff.
Swindon depot already operates into Oxfordshire in the form of service S6, whilst Cheltenham depot also serves Witney and Oxford with service 853. The operating area of the yet-to-be-named new OpCo will see it operating services in the following areas: Bristol, Gloucestershire, Herefordshire, Northamptonshire, Oxfordshire, South Gloucestershire and Wiltshire, with some West journeys also extending into Wales. Additionally, the Oxford Tube serves London and Bristol-based Megabus coaches serve a number of destinations on the network.