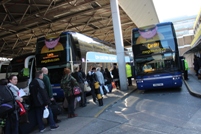 Stagecoach Group has confirmed its 2013 investment of over £75m will see the introduction of over 430 new buses and coaches. Most of the vehicles will be produced in the UK, helping support hundreds of British manufacturing jobs.
The latest orders follow an annual competitive tendering process and the first of the new vehicles will be delivered from May 2013.
Stagecoach's total investment in new buses and coaches for the UK over the past six years is now more than £445m.
Details of the new orders are:
113 ADL Enviro 400 Dennis and Scania double-deckers
98 ADL Enviro 300 Dennis and Scania single-deckers
140 ADL Enviro 200s
1 Optare Versa
32 Optare Solos
10 Plaxton Panther-bodied Volvo B13R coaches
8 Plaxton Elite-bodied Volvo B13R coaches
10 Plaxton Elite i-bodied Volvo B11R coaches
10 Van Hool Altano TDX 21 lefthand drive coaches
 10 Van Hool Astromega double-decker sleeper coaches.
Interestingly, the Astomegas feature 55 reclining seats for daytime travel which convert to 41 beds for overnight journeys. The left-hand drive, 72-seat Altano overdeck coaches are for megabus.com continental services and replace 49-seater coaches.
All vehicles meet Euro 5 emissions requirements and some are to be hybrid or gas-fuelled low carbon vehicles. The actual number will be determined by the allocation of £20m funding from the fourth round of Green Bus Fund. Details of successful bids are being announced in May.
Les Warneford, MD of Stagecoach UK Bus, said: "This latest multimillion- pound investment is a great New Year boost for Britain. It will deliver better bus services to local communities across the country and help support British manufacturing jobs. It is also great news for our customers.
"The new orders mark further investment in our budget coach service megabus.com where we placed a special order for new double-decker sleeper coaches, which will allow us to run a luxury service during the day and offer greater comfort to our customers on overnight services."