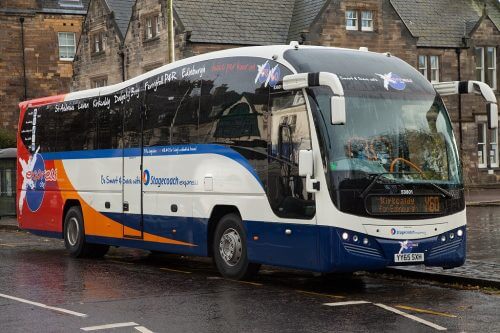 New Volvo-based Plaxton coaches for both North Scotland and East Scotland operating companies as key milestones reached
Two Stagecoach operating companies in Scotland have invested in new Volvo-based Plaxton coaches for their inter-urban services, which are enjoying year-on-year growth in passenger numbers.
Stagecoach East Scotland has celebrated 10 years of the Express City Connect brand, which represents all the coaches operating on longer distance routes across Fife and to destinations such as Glasgow, Edinburgh, Perth and Dundee.
The distinctive Express City Connect branding used on the coaches was created in October 2007, to coincide with a large investment of over £4.5m in new vehicles to operate across the region at the time.
The latest investment of almost £2m by the operator saw six new coaches introduced to the fleet last month. Four of the coaches now operate on the X24 route linking Fife to Glasgow Airport and the other two vehicles are used on express routes to Edinburgh, where additional capacity was required.
The company is marking the occasion by creating a calendar, featuring photos of Express City Connect coaches over the last 10 years, which will be available for sale shortly. Stagecoach employees have been invited to submit photos for inclusion in the calendar and all proceeds will be donated to a local charity.
Illustrating the levels of patronage growth, when the Express City Connect brand was launched on October 29, 2007, Stagecoach was carrying around 72,000 passengers per week on express services. That figure now stands at almost 100,000 passengers per week on the Express City Connect journeys across East Scotland.
In a separate development, last week Stagecoach North Scotland launched a fleet of 10 brand new Plaxton Elite-bodied Volvo coaches to operate between Aberdeen and Inverness.
The coaches, which mark a £2.75m investment, will run on the existing service 10. The luxury coaches boast leather seats, free WiFi, a WC and USB charging points. Passenger comfort is assured by climate control on board. The coaches are also equipped with a tracker, which means passengers will be able to find out exactly when their service will arrive by looking up their bus stop in the 'bus stops nearby' section of the Stagecoach mobile app or by visiting stagecoachbus.com.
Service 10 carries over 700,000 passengers each year and is a key transport link for commuters and leisure travellers alike. All 10 coaches are expected to be on the road by the end of November, with the first three coaches in service this week.
The new coaches were unveiled by Mark Whitelocks, MD for Stagecoach North Scotland at events in Aberdeen, Elgin and Inverness. He said: "This investment is all about delivering better services in our area. We are committed to encouraging more people to travel on our services. We hope that when the community see the new coaches they will make bus a better choice to fulfil their travel needs."