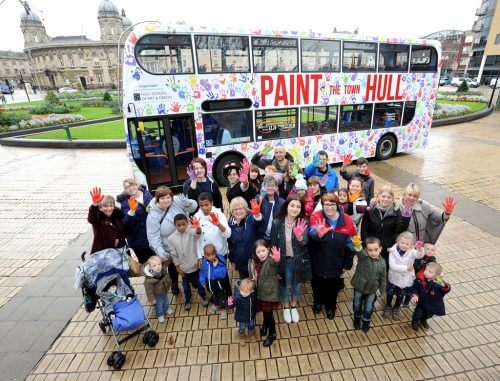 Stagecoach East Midlands has unveiled its 'paint the town Hull' handprint bus, created by graphic design student Lauren Jones in honour of Hull's 2017 UK City of Culture status.
The handprint design was revealed at the Rose Bowl Fountain in Hull, with over 60 local people attending to see their handprints displayed on the colourful ADL Enviro400.
Three-hundred local Hull residents, including BBC's Face of Hull Kofi Smiles, contributed their handprints to the project. Graphic Design student Lauren Jones was responsible for the design – one of two winners of 'Bus Strokes', a project Stagecoach East Midlands launched with the Hull School of Art and Design at the beginning of the year.
Michelle Hargreaves, Managing Director at Stagecoach East Midlands, said: "We are delighted to be able to unveil this fantastic and unique bus and have so many local people contribute towards the finished product. It is such a unique concept that we hope all the residents of Hull can enjoy whilst it continues to service routes around the city."
Lauren, said: "It has been an amazing experience to create a concept for a double-decker bus that represents the City of Culture. I have been involved in the whole process and it's wonderful to see the final design come to fruition"
The Handprint Bus is now in service and travels along routes throughout the city.