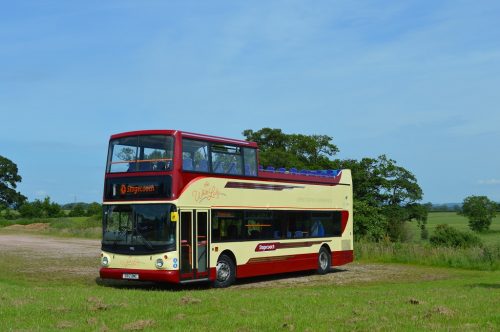 Stagecoach Cumbria & North Lancashire (SCNL) has revived a long-lost, fondly-remembered brand as part of an effort to grow its private hire bus operation.
With the impending arrival of seven brand new open-top Wrightbus Gemini 3-bodied Volvo B5TLs at Kendal depot to replace 19-year-old open-top Alexander ALX400-bodied Dennis Tridents, one example – 17012 (T812BWC) – has been retained for private hire and now sports a modern take on Ribble's 'White Lady' livery.
Michael Sanderson, Commercial Manager at SCNL, told CBW: "17012 and other similar Trident open-tops at Kendal that have operated The Lakes Connection 599 service between Bowness, Windermere,
mbleside and Grasmere since 2008 are moving on. One is going to Carlisle for route 508 and another to West Cumbria for service 78 – both as spare buses. However, a third one, 17012, is remaining at Kendal as it's equipped with a tachograph. We needed something that would sit nicely next to our Routemaster RML2671, but at the same time was accessible and could be used as a spare bus for the 599 if required. The new Wrightbuses have a PVR (Peak Vehicle Requirement) of six, with one spare, so 17012 will offer additional cover."
As for the livery, Michael said: "We spoke to Ray Stenning at Best Impressions. Kendal was originally a Ribble garage, but all the same we decided we would use a modern take on the 'White Lady' livery, which fits what Ray rightly calls the 'vehicle architecture.' I think it looks fantastic and hope it leads to increased private hire.
"Ribble used the livery on longer-distance services out of Manchester. The buses were painted in a reversal of the standard red and cream Ribble livery, and became known as White Ladies' – despite the base colour being cream in reality."
Asked about the latest on the new Wrightbus vehicles and when they're due to enter service, Michael replied: "We are expecting the first bus to be delivered imminently – it's had its CCTV and vinyls fitted at Wrightbus' Ballymena factory. We anticipate the new open-toppers will be in service by the end of July. We're going to use the first vehicle for type training and a series of promotional events."
To hire the Routemaster or 'White Lady,' visit www.stagecoachbus.com/whitelady.