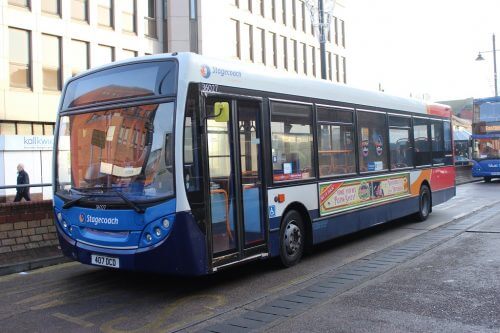 Operator sees slight falls in profits across the board, though overall group revenue moves beyond £2bn
Stagecoach Group has released its interim results for the half-year ended October 29, 2016.
While revenue increased to break the £2bn barrier (£2.002bn from £1.97bn in the previous year), operating profit was down at £108.9m (from £137.2m).
Profit before taxation stood at £89.5m, slightly down on the £90.8m of the previous year.
Earnings per share fell by 0.1p to 12.7p, though interim dividend per share increased 8.6% to 3.8p from 3.5p.
UK regional bus operations saw a 1.6% decline in revenue to £513.9m, while operating profit fell from £71.9m to £66.6m, with the profit margin decreasing from 13.8% to 13.0%. Tendered and school revenue saw a particularly sharp decline of 9.4% to £49.4m, though contract revenue increased by 2.1% to £19.2m. The company said a 1.5% like-for-like fall in passenger journeys was attributable to weak underlying economic conditions in some parts of the UK, along with road works and worsening congestion.
In London, like-for-like revenue fell by 1.2% to £131.5m, while operating profit fell by 9% to £9.1m. This reflected a net reduction in vehicle miles operated resulting from contract tenders which concluded in the previous year.
Chief Executive, Martin Griffiths, said: "We are pleased with the performance of the business in the face of a challenging and uncertain political and economic environment. We have met our expectations of earnings per share for the first half of the year.
"We see positive long-term prospects for public transport and have increased the interim dividend by 8.6%. We have a growth strategy built on continued investment, value-for-money travel and high customer satisfaction and we have made further significant investments to improve our bus and rail services for customers now and in the future.
"There is a large market opportunity for modal shift from cars to public transport against a backdrop of population growth, urbanisation, technological advancements, and increasing pressure to tackle road congestion and improve air quality.
"We remain confident that we can continue to deliver long-term value to our customers and shareholders. The prospects for growth in public transport in the UK and North America remain good and we are continuing to invest to ensure that our businesses are a central part of that growth."