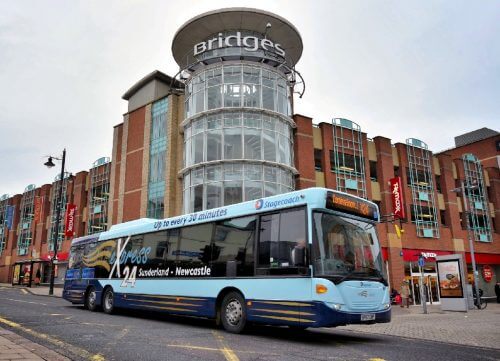 Former trio Stagecoach East Scotland buses to operate on inter-urban route from Newcastle to Sunderland
Stagecoach North East has launched a new X24 express service between Sunderland and Newcastle. The service is making use of a fleet of three Scania K270UB OmniLink tri-axle buses, which will be based at the operator's Wheatsheaf depot in Sunderland after transferring from Dunfermline, where they operated with Stagecoach East Scotland.
A spokesperson for Stagecoach told CBW: "The vehicles were chosen because of their look and high seating capacity of 51. They had also been used on similar express work in East Scotland.
"The vehicles have had their exteriors repainted and branded for the service. The livery was designed by the Stagecoach North East marketing team, before being printed and fitted by Smart Graphics.
"The buses are powered by Scania engines coupled to ZF gearboxes. They include air-conditioning and WiFi."
The X24 was launched on January 30, 2017. The service operates every 30 minutes from Monday to Saturday from Fawcett Street in Sunderland City Centre to Pilgrim Street in Newcastle.
The new express service, which also runs evening services at 1924hrs in Sunderland and 2010hrs in Newcastle, has been introduced following a high level of customer demand. Fares are priced at £2.80 for an adult single or £13.35 for a week with a Tyne and Wear Megarider.
With the service travelling via Chester Road in Sunderland and Gateshead High Street, the buses with their own striking X24 blue design livery will present an alternative method of travel to the Metro.
Steve Walker, Managing Director of Stagecoach North East, said: "After listening to our customers, we are delighted to launch this new service to benefit passengers travelling between Sunderland and Newcastle.
"The new X24 service represents a further investment from Stagecoach North East and demonstrates our commitment to delivering more choice, more value-for-money and more opportunities to travel whether business or pleasure."
To launch the new X24 service, Stagecoach is offering an introductory fare exclusive to passengers on the route, with a one week ticket for £5 from January 30 to February 4 and £10 from February 6-11.