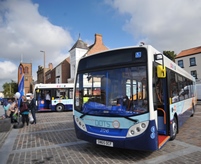 The new vehicles represent an investment of £2.3m
Stagecoach North East has unveiled the first of 17 brand new buses to join its fleet in Stockton.
At a public event to celebrate the announcement, the local bus operator was joined by Stockton South MP and Northern Powerhouse Minister, James Wharton, to launch the newly branded single decker Alexander Dennis Enviro300 buses as part of a £2.3m investment. Seven new buses are now in service, with the remaining 10 buses set for delivery over the next few weeks.
The company has introduced the newly branded buses for its customers on services 52, 58, 59 and 61, which link the town centre to locations along the route, including Fairfield, Hardwick, Norton and Billingham. The buses feature a 'connecting the DOTS' theme designed to highlight the connections available along the routes, with services every 12-15 minutes. All the new buses will feature WiFi.
To celebrate the announcement, the company is encouraging the youngsters of Teesside to get 'dotty about Stockton' and has launched a 'join the dots' competition.
Phil Medlicott, Managing Director of Stagecoach North East, said: "We are delighted to launch the first of these new vehicles for the wider Stockton area, with the rest of the new buses coming on board shortly. This is great news for our customers and a fantastic addition to the local Stagecoach bus fleet.
"Buses are critical to the local economy and so we have invested to improve the experience for customers, making it as easy as possible to travel within their community, and connecting people to their local amenities. With the addition of free WiFi, being able to work remotely, contact friends via social networks or even check the latest journey information online will help make bus travel more productive."
Visiting the new buses at the launch, James Wharton MP said: "I'm delighted to be here today to support the launch of these fantastic new buses.
Their technology is a real incentive to those who need WiFi on the go. Anything that encourages increased use of public transport is to be supported. I look forward to seeing the new fleet in and around Stockton."
Alex Cunningham, MP for Stockton North, said: "I know people across the Stockton Borough will be pleased to have 21st century buses on local routes and I'm delighted to see Stagecoach invest in both the new buses and our community. I look forward to working with the company to further develop services in the area and respond to local demand."