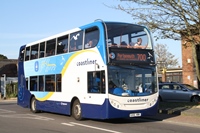 Stagecoach Group has released a trading update covering the 40 weeks ended February 6, 2016.
The statement was focussed on the group's revenue. It revealed that the operator's regional bus operation in the UK saw slight revenue growth of 0.7%, while there was larger revenue growth in London of 1.3%.
UK Rail, excluding Virgin Trains East Coast, saw revenues grow by 4.6%, while Virgin Rail Group revenue grew by 6.6%.
However, the group's North Amercian operations, including Megabus.com, struggled, with revenues dropping by 4.4%, though the company said this part of the business is performing better in the second half of the year.
A spokesman for the operator said: "Our expectation of the Group's adjusted earnings per share for the year ending April 30, 2016, has not significantly changed from when we announced our half year results in December 2015.
"Consistent with the trends we reported in December, revenue growth in our UK Bus (regional operations) and UK Rail businesses in the second half of the financial year has been lower than was experienced in the first half. As we anticipated, second half revenue in North America is benefiting from new contract wins."