Company decided to drop dividend to a 'sustainable level' in the wake of Virgin Trains East Coast franchise issues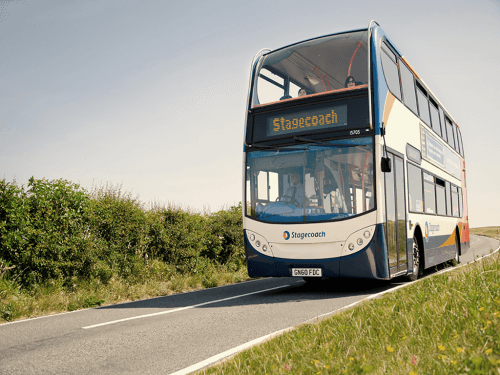 Stagecoach has posted its financial results for the full year ended 28 April, 2018, with profit increases contrasting with drops in revenue and dividend.
Overall revenue stood at £3.23bn (2017: £3.94bn), while profit before tax increased substantially to £95.3m (2017: £17.9m).
Earnings per share was up at 12.3p (2017: 5.5p) but the company cut its full year dividend to 7.7p (2017: 11.9p).
This cut has been widely attributed to the Virgin Trains East Coast franchise, which Stagecoach held a 90% stake in before it went into Government control last month. The franchise created £85.6m of net expenses.
Regional UK bus operations saw a very slight 0.3% decline in revenue to £1.01bn, while operating profit fell by 3.5% to £112.9m. Operating margin was 11.2%, down from 11.5% the previous year.
In London, like-for-like revenue was down 4.4% at £251.8m, while operating profit fell by 27.7% to £13.3m. Operating margin was also down from 7.0% in 2017 to 5.3% this year.
Stagecoach said it had won several new contracts from other operators, resulting in a net gain of four routes with a peak vehicle requirement of 50 buses and a total contract value of close to £13m, which it will benefit from in the next financial year.
The revenue impact of contracts lost in the prior year is reflected in this year's financial performance.
Stagecoach CEO, Martin Griffiths, commented: "I am pleased to be reporting adjusted earnings per share that are ahead of our expectation.
"I am disappointed to be reporting significant exceptional costs in respect of Virgin Trains East Coast, but I am pleased that there is now clarity for both customers and shareholders.
"We welcome the positive changes by the Department for Transport to ensure a more balanced share of revenue risk between the Department and UK train operators.
"We are continuing work on bids for new South Eastern, West Coast Partnership and East Midlands rail franchises and we will maintain a disciplined approach to all rail bids.
"The pricing and network changes we made across our coach and bus operations, together with our further investment in new vehicles and technology, have broadly delivered the results we expected.
"While there are challenges to growing coach and bus patronage, we remain positive on the opportunities for growth and further cost efficiencies. The group remains in a good financial position and net debt has reduced in the year.
"Whilst the board understands the importance of dividends to its shareholders, the board also feels the dividend needs to be set at a level from which it can grow over time as well as being covered by normalised non-rail cash flows.
"Given these factors, the board has taken the decision to rebase the dividend to 7.7p for the full year, a level we view as sustainable. We have maintained our expectation of adjusted earnings per share for 2018/19."