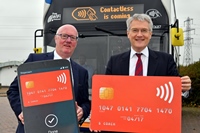 Oxfordshire is first region to benefit, with contactless payments now available on 180 buses
Stagecoach has announced that it will deliver contactless bus travel on all of its regional bus services across the UK by the end of 2018.
The £12m initiative will allow passengers to pay for their travel with a contactless credit or debit card, as well as Apple Pay and Android Pay.
The operator said it will be the first major deployment of contactless technology on Britain's buses outside London and will benefit customers from major urban areas to rural and island communities.
Stagecoach launched the first stage of the project in Oxfordshire, with contactless now live on all 180 buses in the region. It covers Oxford City services, commuter routes into Oxford and Oxford Tube express services which run to and from London 24 hours a day.
The facility will be rolled out to Ashford in Kent and Tyne and Wear by the end of this year, with Greater Manchester following in January 2017, covering a further 1,300 buses.
By the end of 2018, the technology will be live on all of Stagecoach's 7,200 buses in England, Scotland and Wales.
Stagecoach has already ordered 4,000 special ticket machines, covering more than 50% of its bus fleet, with the remaining 3,200 machines scheduled for 2017-18. There will be no additional charge to customers for using contactless as a means of payment.
Robert Montgomery, Managing Director of Stagecoach UK Bus, said: "Bus travel is experiencing a complete transformation. Major investment by Stagecoach in new digital technology is making it easier than ever to catch the bus.
"From contactless technology and new apps to greener vehicles with the latest environmental performance, buses are the simpler, smarter and greener mobility solution. But to maximise the benefit of this investment, we also need bold and urgent action by transport authorities to tackle the scourge of road congestion that is holding back bus reliability."
Transport Minister Andrew Jones said: "Buses make vital journeys possible every day, and this government is doing everything it can to improve services.
"The roll-out of contactless payment technology on Stagecoach bus services outside London will help hundreds of thousands of passengers. People will be able to buy tickets online and on smartphones, making bus travel more convenient, cutting queues and speeding up journeys."
Around 76 million contactless cards are now in issue in the UK – a rise of nearly 40% in the past year. Some £929.8m was spent in the UK in October 2015 alone using a contactless card.